By S Balakrishnan
The problem with Narendra Modi and Amit Shah (ModiShah) 2.0 is that they are committing one mistake after another.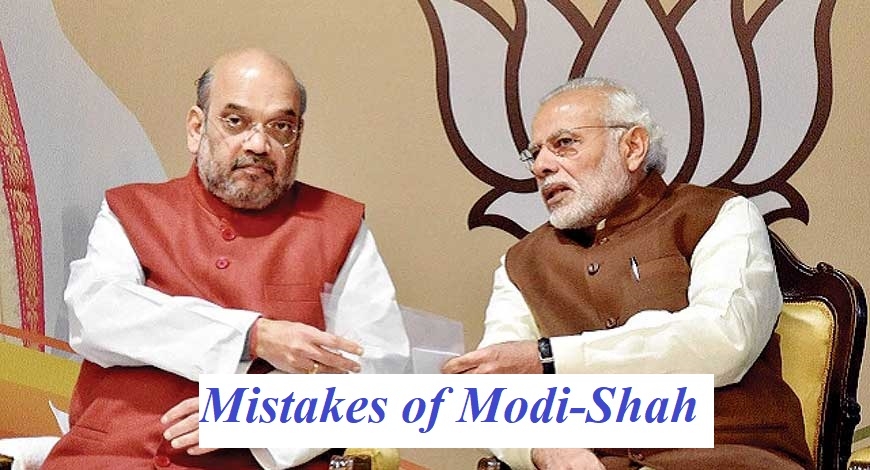 1. Soon after returning to power after a massive mandate in 2019 they made the mistake of scrapping Article 370 and creating UTs of J&K and Ladakh. They had no business doing that. Who asked them to integrate J& K more with the rest of India? Before that Modi proactively sent our IAF boys to Balakot and bombed the terror camps. ModiShah should have simply let the terror issue fester as in the past and kept the tukde tukde gang and its well-wishers in the media happy. But by adopting a hitherto unheard of muscular approach against the terrorists and their patrons in Pakistan they angered so many activists and the ISI.
2. Mistake number two was to usher in the anti-triple talaq law. How does it matter to ModiShah or the Hindus if millions of our Muslim sisters are suffering from the insecurity of the blatantly patriarchal practice of triple talaq? No...they had to come to the resue of Muslim women without even as a verbal promise that they would vote BJP. Don't they know that politics is all about votes?
3. Why they had to fight tooth and nail in the SC on the Ramjanambhoomi case? This litigation was pending for several decades and would have continued for a few more decades. But the Modi govt along with others put up a strong case based on facts and law and won the historic battle. By doing that it angered the Jamiat i Islami, Tableegh e Jamat, the PDF and other fundamentalist organisations with a wide network across Hindustan. Now all these organizations are taking revenge by mobilising Muslims against CAA-NRC with generous support from a discredited and desperate Congress whose positions on various issues perfectly coincide with that of Islamabad.
4. Now we come to the fourth blunder. Who told them to bring in CAA? Its a law which would have helped only 31,313 Hindus, Sikhs etc who were persecuted in Pakistan, Bangladesh and Afghanistan. They dont form a vote bank and politically they are of no help. But ModiShah had to do justice to them. In the process they have become victims of the most effective disinformation campaign ever unleashed anywhere in the world. NRC is aimed at identifying and sending back illegal immigrants. About 19 lakh such people have been identified as per a SC mandated exercise. ModiShah should have just let in more illegal migrants and used them as a vote bank like what the Congress has been doing. But no. This ModiShah combo had to unnecessarily defend the national interest.
5. By cracking down on thousands of NGOs getting money generously from abroad ModiShah have almost torpodoed the well-crafted Joshua Project which aims at mass conversions of Hindus into Christianity across Hindustan. This had ired the powerful lobby and its patrons in the media in a big away. ModiShah should have just looked the other way when lakhs of poor Hindus are being converted by foreign-funded evangelists.
Its high time Narendra bhai and Amit bhai abandoned their long-term vision for a vibrant India and adopted a policy of compromising with every vested interest down the street. That way they would get to retain power for many more years to come. National interest be damned.
(
About Author:-

S Balakrishnan is rare combination of intellectual, writer, journalist and activist. He was journalist with The Times of India. He is currently practising criminal law at the Bombay High Court, where he frequently take up the matters pro bono for national interest and social cause.)