Author: Dhruva Saikia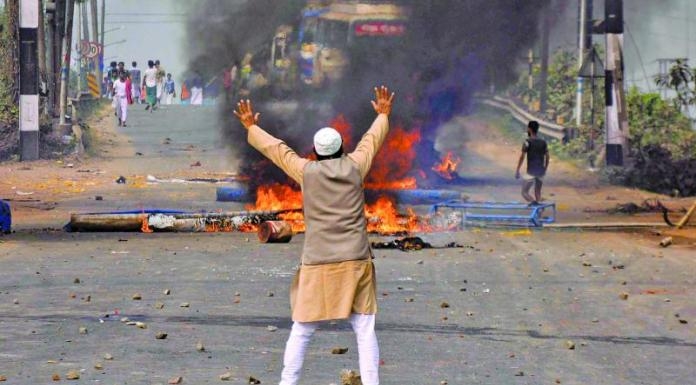 Is UP Chief Minister Yogi Adityanath breaking or upholding the law of the land by initiating an unprecedented exercise to make those 'identified' hooligans pay compensation for destroying public property worth crores of the rupee during the anti-CAA-NRC stir in several parts of the country, including UP?
This move by the resolute UP chief minister is a path-breaking step in the world's largest democracy where outburst of public anger is not only free and frequent but accompanied by violence and hooliganism that hurts at the core of democratic values and mechanism. When democratic agitators jump over the fence and turn lawbreakers, it becomes somewhat equally tricky for their democratic rulers to maintain an expected decorum, and that explains for Yogi Adityanath's vow to take revenge on those CAA-NRC protesters who took to wanton destruction of public property to vent their anger over a bona fide piece of law. Now that Yogi is doing what he said, certain sections are trying to ignore the legal obligations associated and instead picking up the Yogi's one-word 'Badla', which means revenge. Perhaps they expect us to believe that Yogi's action in this context can never be law-abiding because he wanted to take revenge, and exploiting the provisions of law to that end. But that is not true; Yogi, in fact, is finding an answer to some legal loophole that renders even eminent jurists in the country unable to help. There is a law to prevent to destruction of public property, but when someone actually carries out the destruction, the court admits that there are limitations there that prevent the court from punishing the guilty.
A leading newspaper Indian Express, in order to examine the veracity of Yogi's attempt at pulling out compensation from lawbreaking CAA-NRC agitators in UP, has completed a survey of property destroying stirs during last four years in BJP ruled UP, Maharashtra, Punjab, Haryana, Haryana besides Delhi ruled by AAP.
Here is a summary of the survey that shows us that compelling the public property destroyers to pay for compensation, though not regular and widespread, is not without instances either. There are instances when the Court has asked the administration to arrange for due compensation to victims for loss of property, and that too not at the cost of the exchequer but drawing it from those responsible for destruction. So, asking the agitators, who have been properly identified, to pay for compensation, hardly corresponds to revenge. This will be clear from the facts incorporated in the survey -
* December 2018- No notices for damage were sent to anyone by UP police for the killing of UP police inspector Subodh Kumar Singh, posted with Syana police station in Bulandshahr, burning police vehicle and ransacking the police station by a mob led by Bajrang Dal activists after recovery of some cow carcasses in the area.
* February 2016- Jat quota unrest in Haryana led to the death of 30 people, 1,800 properties worth Rs 1,100 crore destroyed as per government estimate. No notice was sent and the government paid Rs 65.38 crore compensation to people whose private property was damaged.
* August 2017- Following Court orders, Haryana state administration attached properties of Dera Sacha Sauda in Sirsa after Dera Sacha Sauda's Gurmeet Ram Rahim was convicted of rape and his followers, in protest, went on a rampage setting fire to vehicles, government buildings, petrol stations, media vans and railway stations. As many as 40 people were killed. The Punjab and Haryana High Court took cognisance of the violence and ordered recovery of damages from rioters.
* June 2017 and April 2019- No notice was sent for compensation in Madhya Pradesh after farmers' protest in Mandsaur, Madhya Pradesh, turned violent with agitators damaging rail tracks and burning down 27 vehicles. As many as six farmers died in firing by police which suffered heavy stone-pelting. The protests later spread across the state. In April 2019 a nationwide Dalit protest against Supreme Court order diluting the SC/ST Atrocities Act turned violent in Madhya Pradesh and there was no notice for compensation.
* In January 2018, No notice was sent by Pune administration to any protestor when Maharashtra witnessed large scale protests by Dalit groups over the Koregaon battle anniversary, in several parts of Pune, Pimpri-Chinchwad and Ahmednagar, stone pelting was reported and a 16-year-old boy, Yogesh Prahlad Jadhav was killed.
"In the past, in context of some political protests, police has sent reports on public property damage to civil administration which is supposed to issue notices. But rarely have any notices been issued or recoveries been made," a senior Maharashtra police officer said.
* Through 2017 and early 2018, parts of Rajasthan witnessed protests from Rajput group Karni Sena over the film Padmavati. Members of the group not only issued death threats to actors such as Deepika Padukone but also indulged in vandalism in Kota and Chittorgarh, where a mirror of the famed fort was broken. No notice was issued to any member of the Karni Sena by Rajasthan administration. Said Lokendra Singh Kalvi, founder and patron of the Shri Rajput Karni Sena (SRKS): "No notices were issued to any Karni Sena activists in the state during the protests. Moreover, those who were arrested for vandalism in Kota were not Karni Sena activists. And in Chittorgarh, an FIR was indeed filed but it was against unknown persons."
A senior police official said, "After the FIR, we identified the culprits for the vandalism in Chittorgarh and filed a challan. That was the legal process as required in this case, we did not serve any notices."
* The National Capital too witnessed widespread violence and demonstrations in the wake of the demolition of a Ravidas temple in Tughlaqabad in August this year. Protestors indulged in arson and vandalism in various parts of Delhi. Scores of cars, bikes and buses were set on fire. Delhi police sources said no action was initiated by the police to recover damages in this case.
These facts in the survey reveal at least three aspects of the so-called democratic, peaceful agitations in our country- they begin peacefully and turn violent, these agitations are exploited by criminals and our law prescribes punitive measures for lawbreakers among the democratic agitators.
It is this survey that also reveals that the states are not well equipped to follow Supreme Court orders which aim at containing violence and loss of public property during an agitation. The newspaper which arranged for this survey quotes a senior Madhya Pradesh police officer, "The MP administration has not sent notices to anyone with regard to any protest in the past few years. In fact, a mechanism to implement the SC order has not been set up fully here, " notwithstanding the Prevention of Damage to Public Property Act, 1984 which punishes anyone "who commits mischief by doing any act in respect of any public property" with a jail term of up to five years and a fine or both. Provisions of this law can be coupled with those under the Indian Penal Code.
The survey also reflects on-
'In 2007, Supreme Court of Indian court took suo moto cognizance of "various instances where there was large scale destruction of public and private properties in the name of agitations, bandhs, hartals and the like", and set up two Committees headed by former apex court judge Justice K T Thomas and senior advocate Fali Nariman to suggest changes to the law.
In 2009, the Supreme Court issued guidelines based on the recommendations of the two expert Committees.
The Thomas Committee recommended reversing the burden of proof against protesters. Accepting the suggestion, the Court said that the prosecution should be required to prove that public property had been damaged in direct action called by an organisation and that the accused also participated in such direct action.
"From that stage, the burden can be shifted to the accused to prove his innocence," the Court said. It added that the law must be amended to give the Court the power to draw a presumption that the accused is guilty of destroying public property, and it would then be open to the accused to rebut such presumption.
Such a reversal of the burden of proof is applicable in cases of sexual violence, among others. Generally, the law presumes that the accused is innocent until the prosecution proves its case.
The Nariman Committee's recommendations dealt with extracting damages for destruction. Accepting the recommendations, the Court said the rioters would be made strictly liable for the damage, and compensation would be collected to "make good" the damage.
"Where persons, whether jointly or otherwise, are part of a protest which turns violent, results in damage to private or public property, the persons who have caused the damage, or were part of the protestor who have organized it will be deemed to be strictly liable for the damage so caused, which may be assessed by the ordinary courts or by any special procedure created to enforce the right," the Court said.
Apart from holding rioters liable and imposing costs, the Court also issued guidelines including directing High Courts to order suo moto action, and to set up a machinery to investigate the damage caused and award compensation wherever mass destruction to the property takes place due to protests.'
( Dhruva Saikia is a Senior Journalist based in Guwahati and has widely covered Issues from Northeast and other parts of the Nation for esteemed dailies such as The Tribune, Morung Express, Nagaland Post, Eastern Mirror, Sentinel etc.)