Stan Swamy - The Peril of Human Rights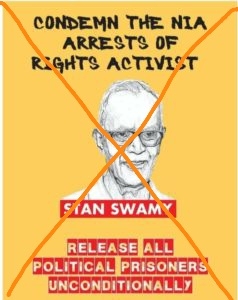 Sedition, Criminal Conspiracy and Involvement with Terrorist Organization are the charges laid on Stan Swamy! And here are the dimwits tweeting #SipperForStan, #IStandWithStan, quoting his age and calling him godman!
The National Investigation Agency's Elgar Parishad Chargesheet states "Stan Swamy is a CPI (Maoist) cadre and was actively involved in its activities." The chargesheet further claims that Stan was in touch with other accused in Elgar Parishad case, received funds for the furtherance of CPI (Maoist) and organised events for the same.
CPI (Maoist) is the organization banned along with Al Qaeda, Hizbul Mujahideen and other terrorist organisations! While imposing a ban on CPI (Maoist), Mr. P. Chidambaram, then the Home Minister of India said "It was always a terror organization and today an ambiguity has been removed." And yet we have leech leftists, politicians and nincompoops who support these Maoist-terrorists, call press conference and organize candlelight vigil for their release! How can a nation prevent terrorist activities by simply banning an organization unless its members and supporters are penalized!?
On 21st Oct, 2020 a zoom-meeting of Stan supporters was organised by People's Union for Civil Liberties (PUCL) wherein the release of all Elgar Parishad case accused, mainly Stan's release was demanded. In this meeting, Unlawful Activities (Prevention) Act (UAPA), the anti-terror act was strongly criticized as draconian law and repeal of the same was called for! This meeting was addressed not just by the communist party members but also by Ms. Supriya Sule, Mr. Shashi Tharoor who condemned the arrests of Stan Swamy. They are the MPs who took oath to serve parliament - the cradle of democracy; whose political parties led Government had banned CPI (Maoist), launched anti-Maoist campaigns and demanded prosecution of Prof. G. N. Saibaba, an urban naxal who carried out unlawful activities under UAPA! Stan, Sudha Bhardwaj too had condemned the judgement of the court when Prof. Saibaba's was convicted and sentenced to life imprisonment for waging war on democracy!
It is to be noted that PUCL, the organiser of this meeting has ties with Indian NGOs funded by European Commission and Georg Soros! Not just to the Elgar Parishad accused, these NGOs provided free legal aid to Rohingyas, CAA protestors and called for UAPA repeal too! On the other hand, Stan was funded by Misereor the German Catholic Bishops' organisation that aided a NGO linked with Adv. Colin Gonsalves who represented 6000 Rohingyas and also Soni Sori in Essar-Maoist payoffs case!
Stan, the foreign aided Masiha of poor, had been working for upliftment of tribals in Jharkhand since 1990s when it was not a separate state but part of Bihar. And yet the mineral-rich state continues to be one of the most poverty-stricken states in the country! Stan's anti-development movements, active support to anti-constitutional pathaghadi movement, the idea of Jharkandi's self-rule were misleading innocent Adivasis. Over 300 villages of Jharkhand have claimed complete autonomy so far wherein the villagers prohibit any outsider including police to enter! Isn't it a breaking India or Tukde- Tukde movement in a true sense? In such chaos, Missionaries got a wide scope to convert. The naïve Hindus of Jharkhand were converted and continued to remain poor and yet Father Stan Lourdusamy became Stan Swamy of Jharkhand! Stan's role in protests against Jharkhand's anti-conversion bill is hence not surprising.
This is the real face of Father Stan Lourdusamy who propagated the agenda of CPI (Maoist) to overthrow the Government of India through people's war, sown poisonous idea of self-rule over Constitution and democratic system, misled and deprived Indian citizens from their fundament right to development! He might be old who needs a sipper or diaper that can be provided in time but that shouldn't serve a reason to get him out of jail free!
#WeStandAgainstMaoist #IndiaStandAgainstMaoist
~ S. Priya