Battleground Assam: The War of Civilizations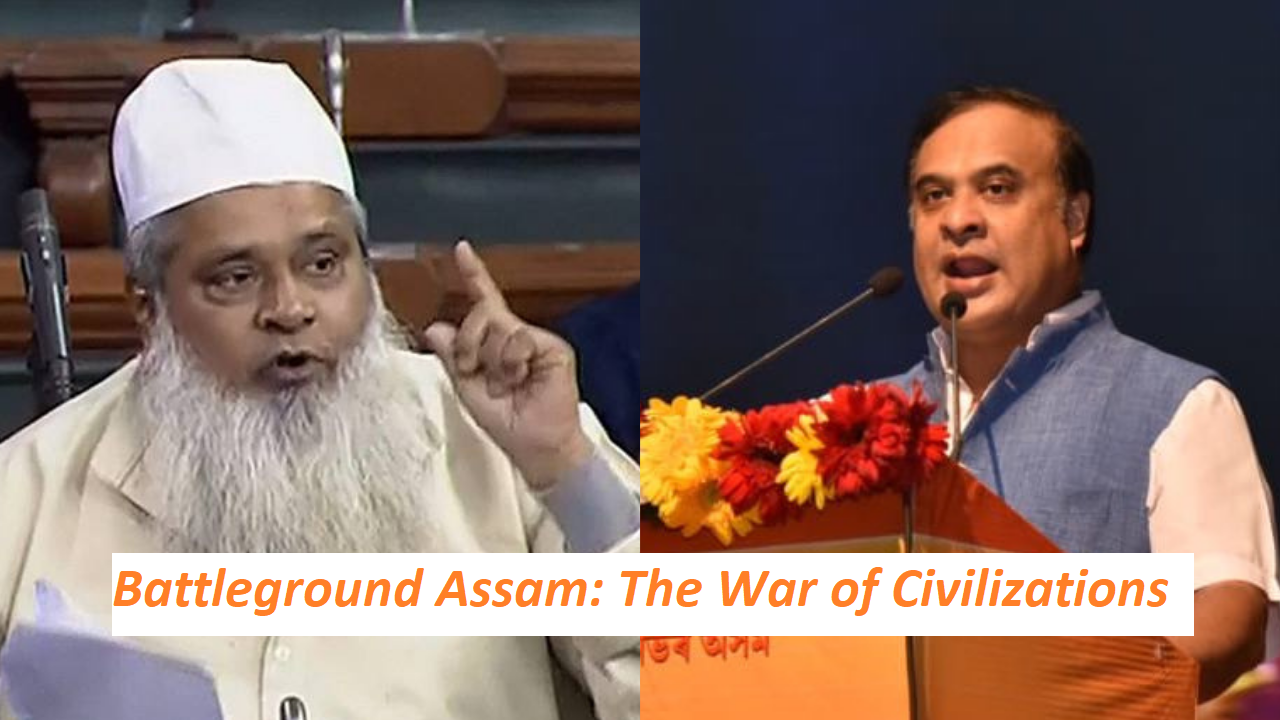 (This is a verbatim transcript of a speech delivered by Assam Minister Dr Himant Biswa Sarma on December 10, 2020, Assam Agitation Shahid Diwas, at Tezpur.
Though it's a political speech, we felt the need to publish this on ICRR as it elaborates the social, cultural and political war which is at its peak in Assam.
Lately, Assam assembly heard an unprecedented demand by incumbent Muslim MLAs to establish Miya Museum at Shrimant Sankardev Kalakshetra. It is a conspiracy to establish Bangladeshi infiltrators' Miya Culture in Indian soil.
This overweening demand of Miya Museum is the portent of increased political power of AIUDF, a party frequently criticized for its pro-Bangladeshi role.
There is no such cultural entity that exists or was associated before with Assam. The state of Assam has a glorious culture with its deep rooted significance way beyond Mahabharat era.
Give a careful read to understand the contemporary developments in Assam's cultural, social and political domain.
)
Today, on this auspicious day of the 10th of December, I on behalf of the Bharatiya Janata Party, the Assam Government and the People of Assam offer my deepest regards to all the 860 brave martyrs of Assam agitation. We are indeed fortunate today that several of the family members of the martyrs of Assam agitation from Sonitpur district are present with us today. I would also like to take this opportunity to offer my humble tributes to these distinguished people present here today and I do hope that they would always remain being guides to us and would continue to bless us. Respected people, the Assam accord was signed in the year 1985 at the culmination of a huge mass movement. We already have discussed that how the Assam agitation gained its momentum after the demise of the then Member of Parliament from the Mangaldoi Lok Sabha constituency Late Shri Hiralal Patowary in the year 1978 and it tuned into a mass awakening after the public conference that took place on the 6th of December, 1979.
Each and every cast, community and people from all walks of the society in Assam spontaneously jumped into this Assam agitation and till that particular day of the 15th of August, 1985, 860 spirited youths were lost forever from amongst us.
The 10th of December has always been a memorable day in the course of the Assam agitation. We lost martyr Late Khargeswar Talukdar on that day and so he was the first martyr of the Assam agitation.
I still remember, I was in the 6h standard at that time, we first protested in front of the house of Begum Abida Ahmed at Lakhtokia protesting her filing of nomination papers. Then at one point in time, a massive police force under the leadership of K P S Gill overcame us and escorted Begum Abida Ahmed to Barpeta.
At Bhawanipur countless people protested including martyr Khargeswar Talukdar and it was during that time that he succumbed to death at midnight. Since then the Assam agitation continued relentlessly and the movement finally culminated at one point with signing of the Assam accord on the 15th of August, 1985.
But still no-one amongst us, the Assamese people would dare say that though the movement came to an end it attained its finality or the Assam agitation gained its desired results. No Assamese can put his hand on his heart and claim that we have been able to attain or fulfill the sacred purpose for which the 860 martyrs laid down their lives.
I think the Assam agitation came to an end but the problems of the lives of the Assamese people did not come to an end and that is why even today the Assamese people want a logical conclusion to the Assam agitation in some way such as in the form of a complete National Register of Citizens or in the execution of the 6th clause of the Assam accord or in some other way. But with each passing day we have realised that the anxiety of saving the nation with which we had jumped into the Assam movement in 1978 has not ended, rather the problems have deepened.
We have seen that the problems have become even graver than what we had thought of. Today the situation of our state stupefies all of us. Even after the culmination of an historic mass movement the threat to our community, the question mark to the existence of our community has not disappeared yet.
Just a few days back, we observed that Sherman Ali, a member of the Assam Legislative Assembly had demanded a Miya Museum to be established at Srimanta Sankardeva Kalakshetra, an historic landmark of Assam and the Assam accord. When asked by the reporters on what he would like to keep at the Miya Museum, Mr. Sherman Ali stated that he would keep Lungi and Saree there. Now you give a thought about it that today even after the death of the 860 martyrs and the massive rise and the renaissance of our community, we still have people amongst us who advocate a Miya Museum at Srimanta Sankardeva Kalakshetra which is like a crown for the life of our community.
We know that today in our society changes have taken place in such a manner that in a large region in Nagaon and Morigaon, even schools have been named Miyan Public School just to challenge the Assamese people. It means that those who during the Assam movement tried to oppose the movement under the disguise have come to the fore today and they have clearly posed a challenge to our community. On one hand Miya Museum has been demanded while on the other hand Miya schools have been sought to be established and along with that some others have started to write Miya Poetry in an effort to distort the Assamese language itself.
Today another cultural challenge has also been carried out against our community. But what is unfortunate for us is that we have clearly seen some of the intellectuals of our Assam are patronizing these very people. Had the Bharatiya Janata Party and its alert activists not there in Assam today, probably someday one of the chief ministers of Assam would have inaugurated the Miya Museum at the Srimanta Sankardeva Kalakshetra; we have seen a situation like this arising in our state today. Today the Bharatiya Janata Party is not acting as a political party but we are working with an aim to erecting a huge wall against this alien Miya culture. Today had we not been there, had the Bharatiya Janata Party not sustained the spirit of the Assam agitation, Badruddin Ajmal would already have been able to sit at the big chair in Assam.
It is just a while ago when our youths were carrying out a procession with bikes and scooters in the Barchalla constituency, we all are aware of how in this holy land of Assam some people dared to shout Pakistan zindabad slogans. Today in this Assam many such people exist who celebrate when Pakistan wins in a cricket match between India and Pakistan and they become upset when India wins. Today many such instances are there in front of us. Today when leader of a political party goes to Silchar he is welcomed by the Pakistan zindabad slogans. Now you try to imagine what a grave challenge has been posed to our community today!
The challenge has become even more complex than the time when martyr Khargeswar Talukdar laid down his life. Today this challenge has become even more serious. Just ten days ago we saw that the Ajmal Foundation has been funded donations of 130 crores of rupees from abroad so that the seeds Islamic radicalization could be sowed in Assam. Even before that news subsided we again have got news in the morning today that simultaneously with the Ajmal Foundation, Anfar Foundation too has been funded 8 crores of rupees from abroad for the same purpose of Islamic radicalization. It means that with a foreign patronage, foreign funds and an alien mindset a serious challenge has been posed against our community. I believe that when we as a community would accept this challenge we have to make sure one thing: that what the definition of our community is.
If we define our community only with the people like Das, Kalitas and Brahmins, I think in this context of contemporary cultural aggression we can never be successful. When we talk about the indigenous people or the Assamese people, the definition of both must be all-inclusive and all-encompassing so that it can withstand the cultural challenge that has been posed against us. Today if we form the definition of Assamese ignoring the tribal society of Assam and the other people of Indian origin who have been living in Assam for the last 50 years, we would not be able to withstand this cultural and political challenge even for a single day.
But when we encompass the 65% people of our state be it our tribal fellows, be it the Assamese speaking mainstream people and the people who have migrated from the rest of the states of India and have made Assam their motherland, only then we would be able to confront this challenge. Or else our community would be weakened and at some point in time as many intellectuals of today have compromised with people like Ajmal, our community too would be compelled to compromise.
Today we have got some intellectuals in Assam who want to forget who killed Bhupen Deka mercilessly, who on the 20th of March, 1983 had killed Balin Nath, Shyam Kundu, Biren Mishra, Prasanna Baruah, Palash Rajbongshi, Jayram Baruah and Bhupen Deka! Who killed Jamuna Baideu at Samaria? They want to forget those stories. Today they want to forget the invasion on the language and culture of Assam! And they think that they all should unite for the sake of opposing BJP. I want to tell them that BJP is not the challenge for Assam, let us unite against those who pose a challenge to the language and culture of Assam. Today if there is a need to unite in Assam then it should not be against BJP but against the aggression of Ajmal that we need to unite and this is something that the intellectuals in Assam need to understand.
It pains me that today when the money that Ajmal Foundation receives from abroad for Islamic radicalization is distributed, some intellectuals attend such events and shower great praises on Ajmal. But they never even for a single instance question the source of that money. What is the intention of these intellectuals who offer the prime seat to Ajmal in such events? But where do they lose the moral courage to raise their voices when these people encroach our lands at Kaziranga and at the birthplace of Mahapurush Srimanta Sankardeva in Bordoa? I think some leftist intellectuals of Assam are trying to mislead our whole community today. If this continues a day would come when our community would lose the political, economic and land rights and our Assamese community would lose its identity.
Respected people, today there is a definite battle going on between two cultures in Assam, one being spearheaded by Ajmal and others being guided by the writings of our Mahapurush Srimanta Sankardeva and his ideals. There will be a contest between these two contradictory cultures in Assam in these elections like the one we had in the previous elections. And a day would come when these people would not even dare imagine that they can come close to Dispur!
Today I am calling you the people to bravely accept this challenge that comes from this Miya culture and civilization. Today we have seen how a place at a Bihutoli in this Tezpur town has been converted into a religious place of worship and we the Assamese are just silently looking at it. Because some intellectuals are of the notion that in this land of Sankar-Azan, the Assamese will always have to node their heads. But I would like to remind them that Sankar, Ajan and Madhav we also have the tradition of Bir Lachit to confront and defeat this force of aggression!
We have the courage and strength to do it and we will have to do it!
Respected people today we have lost almost 35 to 40 constituencies out of the 126 constituencies of Assam legislative assembly to this aggression. Today some people in the lower Assam not only have lost their political rights but they also had to leave their land and property and had to migrate to the Guwahati city. We have seen how our lives have been challenged in places like Tezpur and Barchalla. How our lives have even been challenged in a constituency like Naoboicha which was once represented by Dr. Bhupen Hazarika. The lives of our community have not been strengthened even after the signing of Assam accord. Even after the supreme sacrifice of 860 martyrs, Assamese lives are not secured today. We shall have to prepare for another long battle to safeguard our Assamese community. Some people have commenced an aggression today on the Assamese civilization with the help of foreign powers and foreign funds.
We will have to take it as a challenge and will have to prepare ourselves for a bigger political battle resist it.
Respected people, we the Bharatiya Janata Party had come to power in the 2016 with the intention to secure our Jaati, Maati and Bheti. We started the work of the National Register of Citizens. But I do not deny that the desired intention of the NRC could not be fulfilled just because of the egoism of one person named Pratik Hajela. But the Assam government has decided that with a revision of the NRC we will achieve our desired goals.
When we came to power even the birthplace of Srimanta Sankardeva was also under the encroachment of suspected foreigners. We have been able to recover that. Now we have planned to decorate it like the Golden Temple with an estimated expense of 150 crores of rupees. Like my predecessor speakers have stated the state government has taken a number of important decisions with respect to the education department of the state. Now all the students in all the schools irrespective of the medium of their studies will have to compulsorily study the Assamese language till the Xth standard. We have provided Myadi Pattas to landless Indian citizens so that we can establish our rights over our lands. We have through satellite imageries analysed how much of land have been encroached by the suspected Bangladeshis of our land and we have decided to evict them from there at the right time. Today I would like thank the Prime Minister and the Home Minister for the initiative to start the delimitation of the constituencies of the Assam legislative assembly.
During the tenure of the Congress government, the seats of the legislative assembly were drawn in such a manner so that Assamese people would eventually lose the political rights in Assam. I hope the delimitation that will take place after this election will safeguard the interests of the Assamese community and this delimitation will enable the Assamese people to win all the constituencies in Assam without anyone else's help and with this hope the Assamese community is looking forward to the Prime Minister Mr. Modi. Now we will have to take up every challenge that comes to our community. Like Mr. Padma Hazarika said that vegetable cultivation in Assam is only done by a section of suspected citizens and they put some dreaded chemical substances to it with an ulterior motive to cripple the upcoming generations of Assam. With an injection they are converting a small eggplant into a bigger one within a night. With such weird chemical substances they have created terror amongst us in terms of our health. We can't deny the link of the increasing number of liver and kidney diseases to such injected fish and vegetables. We have to prepare ourselves to be self-sufficient in terms of our food demand like we did during the lockdown period.
The newly formed char-chapori areas will have to be cultivated by our Assamese youths before they are captured by those suspected people and it is the time for the government and all of us to a take a kind note of them.
Today after 25 years of the Assam agitation it is time for us to think of formulating modern methods of movement for us. There was a limitation to the agitations carried out on the streets and the limit has already been crossed. Today they have educationally invaded on us. Under the leadership of Ajmal they have opened organisations in the line of Super Sixty to snatch away the medical and engineering seats from us. Taking advantage of the apathy of Assamese youths towards professional courses like Pharmacists, Nurses & laboratory Technicians they have intruded into the whole society. Due to our lack of interest in many such technical courses they have intruded into the mainstream of our lives.
We are even selling our lands to other people at higher prices rather than selling those to our own Assamese people. I think there is again a need for our community to analyse the threat to our lives that has not reduced after the end of Assam agitation, rather it has even deepened. They have invaded us culturally, agriculturally, educationally and they are even trying to pervade our police system through fraudulent appointments with the help of some political patronization. They are trying to weaken our lives through the money that has come to them for Islamic radicalization. I believe there is a need for our community to give a renewed thought to these issues. Some amongst some so-called nationalists in Assam, they have got a belief that BJP is the real challenge.
We would like to make this clear this to them that BJP is not a challenge to the lives of the community rather than challenge our lives have only come from the Miya culture, Civilization and Poetry.
I feel bad, the Prime Minister of Japan was supposed to visit Assam. We had beautifully decorated Guwahati. On the 10
th
of December last year using the sentiments of our people these suspected Bangladeshis in Guwahati were demolishing the roads and railings one by one and were also conspiring to destroy the Srimanta Sankardeva Kalakshetra. But some of our intellectuals did not see these things. Some intellectuals who had opposed the Assam agitation are now trying to take charge of our community. They are trying to talk about the community while sharing the dais with Maulana Madani. Today we are clearly facing thousands of challenges to our community. But I do believe with the blessings of the people and with the strength of the 42 lakhs of activists of the Bharatiya Janata Party we will be able to overthrow this conspiracy and we will make sure that Ajmal cannot even come even anywhere near 100 Kilometers of Dispur.
And I am sure we will succeed. Respected people the development of Assam has reached new heights today. We are today engaged in a ceaseless endeavor to take development side by side while ensuring our existence. Several new schemes like Arunoday and Arundhati bear testimony to glory of our self-reliance and self-sustenance through which we are uniting and strengthening our society. I believe we will have to continue this Arunoday Ashwamedh Yagya in tow streams: one is to ensure that we at no cost ever trail in education. In the modern era we cannot survive through slogans. In order to revive our community education is our prime weapon. We will have to create a new revolution in agricultural self-sufficiency.
Also we will have to remain aware of all the conspiracies against us. I believe today on this auspicious day of the 10
th
of December, we should once again take the pledge to keep our community alive and we shall continue in our heart the endeavor to keep alive the aim with which 860 martyrs had lost their lives.
Respected Mr. Padma Hazarika who is like an elder brother to me has requested a grant of Rs. 2.5 crores from the Government of Assam for the completion of the martyrdom premises of Tezpur and I give the assurance to the people that we shall provide this money to the Deputy Commissioner of the Sonitpur by the next month. Once again I offer my tributes to you all. Today Swahid Divas was organised in a beautiful way in Tezpur at the initiative of the Bharatiya Janata Yuva Morcha and especially with the efforts of Anup Barman and Rakesh Das and I congratulate you all for the same.