On 26th March 2020, around fifty-five members from across seventeen states of the nation are to be nominated to the Rajya Sabha. The ability to nominate candidates of choice for each Party or a coalition will depend on its strength in respective Vidhan Sabhas. In this article, we shall analyse the ongoing political tussle of nominations in the state of Assam. For the three Rajya Sabha seats currently empty from Assam, the NEDA alliance has the necessary numbers in its favour for securing the first two nominations. Consequently, It has allotted one seat to Bhubaneswar Kalita from the BJP and the second one to Biswajit Daimary of the Bodoland People's Front.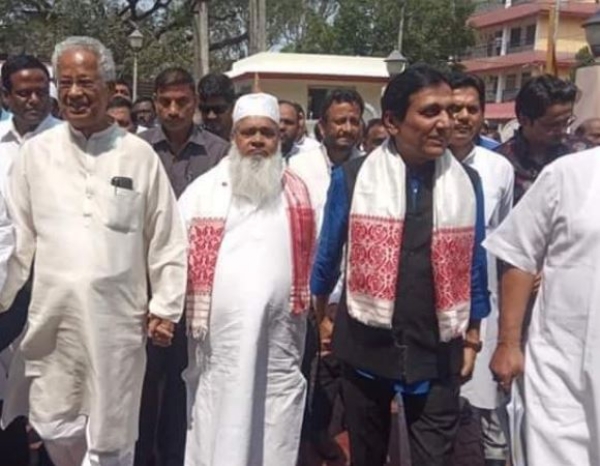 Meanwhile, Congress and Maulana Ajmals party (AIUDF) has finalised the nomination of Veteran Journalist, Ajit Kumar Bhuyan for the third seat. As widely reported in various dailies across the state, Journalist Bhuyan had written to the two parties seeking support for his candidature. In his expression of interest, Bhuyan had extolled his self-proclaimed secular credentials and called on his Anti-CAA stand as a witness of his secular credentials.
Every legitimate citizen of this country has rights to express his interest for nomination to the upper house, and Bhuyan being a veteran Journalist, has all the rights to seek nomination for the same. Nevertheless, as citizen's of this country, every legitimate National also has his/her right to express their opinion on members being nominated into the upper house. Ajit Kumar Bhuyan in many occasion was seen actively participating in Various anti-CAA rally's and had taken a Jatiyatabadi (ultra Regionalism) stand in Many occasions. However, the veteran journalist seeking support for his candidature from Congress and Maulana Ajmals party needs an in-depth interpretation of his Jatiyatabadi cum Secular Nature.
While, on the one hand, Congress was at the forefront in facilitating illegal immigration from neighbouring Bangladesh into Assam. It was also the same Party that had mercilessly forced 1971 as a Cut-off year and IMDT act down the throat of Assamese society. Congress is responsible for the death of more than 855 Martyrs of Assam Andolan, who had aroused to safeguard the National integrity of India from a horde of institutionalised demographic intruders.
Similarly, on the other hand, Maulana Ajmals party was borne to safeguard the interests of illegal Muslim immigrants in the post IMDT act abrogation scenario. Besides, Ajmals party members from time to time had openly displayed their anti-Hindu and anti-Assamese propensities. Until recently, one of his MLA, Aaminul Islam representing the Dhing Constituency had declared the valiant Ahom community of Assam, in a public meeting, to be outsiders. By this hate speech, AIUDF has not only hurt the sentiments of Ahom Community alone but, has also hurt the pride of every Assamese. An Assamese women activist, Gayatri Borpatra Gohain, had lodged a complaint against this hate speech, and there are high chances that MLA Islam could be prosecuted for the hate speech. One can quickly draw a parallel between Maulana Ajmal and Assaduddin Owaisis Party along with their modus operandi, which both vociferously claim to be self-appointed vanguards of Democracy and Secularism. Yet in reality, are Islamist hiding behind the veil of Minortyism.
The veteran Journalist attracts a lot of respect and grandeur from his life long legacy in journalism. But before securing his candidature in the Upper house, he either has to forgo his Secular and Jatiyatabadi credentials or has to accept the Islamist credentials of AIUDF along with its anti-indigenous endeavour of the past. Concomitantly, in many instances, the Congress had also backstabbed the Assamese society. Hence, the veteran journalist will have to clear his stand as a Jatiyatabadi- Secular leader while seating in the stained chair of Congress and AIUDF alliance. If not for the society, then for the sake of saving himself from developing a guilt conscience in the future, the veteran journalist needs to introspect his endeavour.