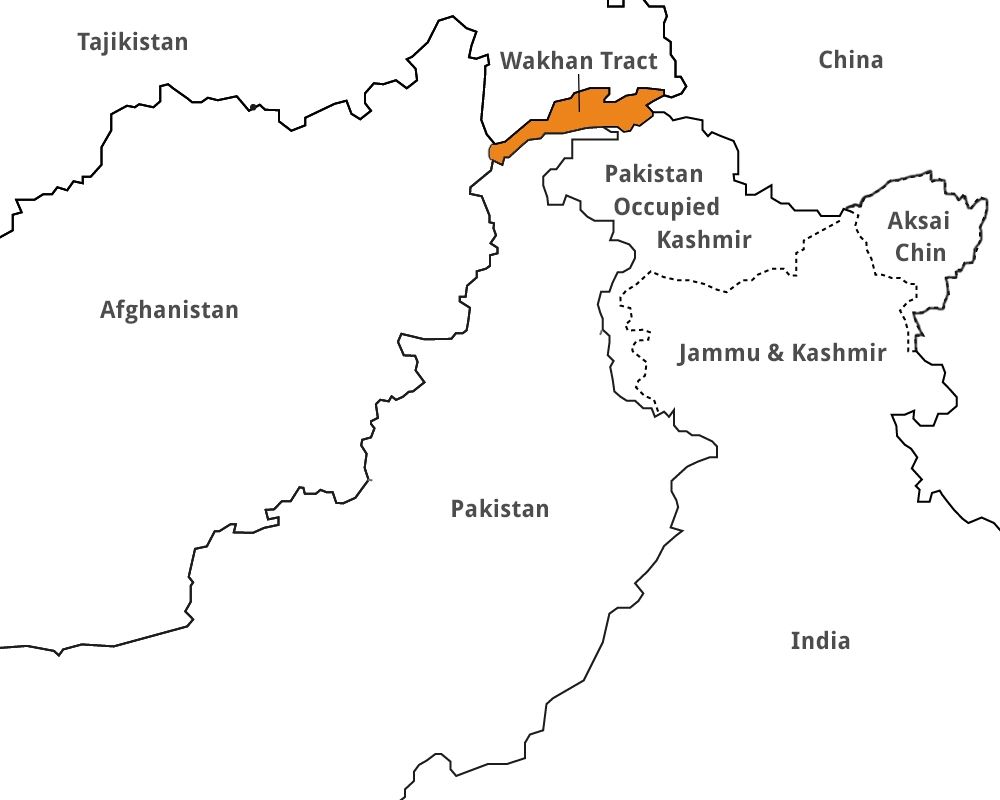 Image source: Scroll.in
The situation in the Af-Pak region is worsening every day, and following the US- Taliban peace deal, Indian interests in the region have received a severe setback. If India shies away from taking up the PoK campaign citing the ongoing Corona outbreak; it would forever loose diplomatic, strategic and perceptional advantage achieved post abrogation of Article 370. To understand the gravity of the arising situation and urgency to retake PoK, We will discuss the present scenario in this article.
Many Indians might have missed or failed to sense the significance of the news related to a gruesome attack on Sikhs in Kabul. For Global human rights watchdogs, such assaults on the religious minorities of Afghanistan and Pakistan don't attract their attention anymore. But the recent Kabul attack is severe and unique in nature as far as India's domestic and international security issues are concerned. It must have sent alarm bells ringing in Indian security and intelligence agencies. The biggest reason for worry in Indian establishment is, one of the four attackers of the Kabul Gurudwara attack is from Kerala's Kasargod district, who fled India 4 years ago along with two dozen other indoctrinated youths to fight in Syria as ISIS fighters.
An upshot is seen in incidents of recruitment of radicalised youth from within the Indian territory. Besides, there are thousands of Indian Muslims working in various Arab countries, which are a premier catchment area of recruitment for Al Qaida/ ISIS. Even middle-class Indian Muslims youths with no prior connections to terrorist organisations in India are getting radicalised while working in these Gulf Countries. No agency within India and abroad have precise data on the figures of missing or absconding ISIS recruits from the Indian expatriate community living in the Gulf. These recruits, active cadres, their over ground workers (OGW) and radical preachers residing within the community have created a perfect blend for the terror recruitment ecosystem in the Gulf region.
Why is the PoK Campaign a need of the hour?
Emboldened by the US- Taliban deal and a future withdrawal of US troops from Afghanistan; Pakistani Army and ISI would leave no stone unturned to avenge India for the complete integration of Jammu and Kashmir. Passage of CAA and violent protests by Muslims within India has already provided ISI with a window to poke their nose in India's internal matters. The fertile Jihadi recruitment from Indian expatriates in Gulf Region, Pakistan would exploit Afghanistan situation to point indoctrinated Indians towards India, feeding them fake narratives and using much sellable anti- Modi, anti- Shah emotional fuel. Worsening internal political and social instability in Balochistan and Khyber Pakhtunkhwa, rapidly alienating Pashtuns from the concept of Jinnah's Pakistan and already marginalised Baloch masses have exerted tremendous pressure on Pakistan's military establishment which is compelling GHQ to fire up situation somewhere else.
Followed by deteriorating financial condition and skyrocketing loan/ interest has put Pakistan in a grave situation to which the rogue Islamic Military junta has no other way out, but to heat up the Indo-Pak border. The entire existence of Pakistan depends on its ability to keep alive its malice against India. In the coming days, repetition of incidents like 26/11, attempts against vital defence installations, and attempts of Infiltration into India will see a spike with the help from overground Workers within India. PoK provides terror organisations like Taliban and ISIS with the required strategical ground for launching infiltration into India. Subsequently, if India has to secure its citizens, it has no other option but to consider the campaign.
Retaking PoK: A Silver bullet for peace?
"An Army Marches on its stomach"- Napolean Bonaparte
The War on terror in Afganistan was a necessity to secure free societies from being dominated by Islamic terrorists, But as the maxim by Napoleam goes, no force in the world can survive or win a war on an empty stomach. The US & NATO forces are facing a similar dilemma right from the day they had set foot on the Afgan Soil.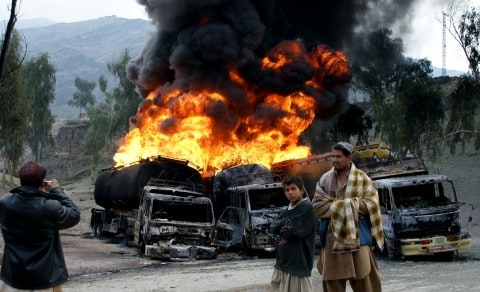 (Afghanistan-bound NATO oil tankers set on fire by alleged militants
at the Pakistani border post of Torkham: Source Washington Post)
Afghanistan, a landlocked country, had made it difficult for the US & the NATO forces to have a secured supply route to sustain and replenish its forces. The US & NATO-led International Security Task Force are mostly dependent on two routes Via Pakistan, one that runs through the Khyber Pass and the second through Baluchistan. At the same time, any Cargo passing through these roads are an easy target for the Al-Qaida and its affiliate organisations, and in several instances, entire cargo consignment carrying essential supplies for the forces were either destroyed or looted in transit.
An alternative route, known as the Northern Distribution Network, available for the troops is long and expensive and traverses through Russia and the Northern neighbours of Afganistan namely, Turkmenistan, Kazakhstan, Uzbekistan etc. Hence, on the one hand, the route Via Pakistan puts up a serious security risk and the Route via Russia and Central Asia, on the other hand, stretches the Cost of War on Terror. Although a much cheaper and shorter route exists through the Chabahar port of Iran, yet it is unusable for the Allies in Afghanistan for apparent reasons.
Nevertheless, there exists an alternative that can be the silver bullet capable of ensuring peace and stability in the region and at the same time provide a cheaper, efficient and secured route for the US and its NATO allies. The Wakhan corridor in Gilgit Baltistan, which is approximately 10-40 miles wide and currently under the wrongful occupation of Pakistan can serve the Allies with the much-needed alternative. Accordingly, to help sustain the war on terror in Afganistan and secure India form a possible tsunami of infiltration of Al-Qaida, ISIS terrorists in the post-US withdrawal scenario. India must make the tough call and launch the campaign to retake PoK. For the Corona Virus outbreak cannot be an alibi for India to avoid its campaign on PoK, nor India can afford to avoid one war at the expense of the other.
However, there are a few factors that India needs to consider before commencing the campaign. The most significant factor that India has to deal during the campaign of PoK will be assessing the possible reaction of China, as huge investments were already made in CPEC projects that run through PoK despite New Delhi's strong oppositions.
In the next part we will analyse an obvious fierce military reaction from China for Indian intervention in PoK; China's rapidly changing internal political dynamics after global outrage against CCP and shaky ground on which Xi Jinping stands today while facing brewing rebellion from disgruntled elements of PLA and CCP.
To be cont...