As India is set to take over the Chairmanship of World Health Organisation's (WHO's) Executive Board by the end of this month, New Delhi will be facing its first diplomatic test in the form of Taiwan's participation in WHO. With the USA and its allies supporting the reinstitution of Taiwan's observer status at World Health Assembly (WHA), Chinese authorities (who consider Taiwan a Chinese province) have started sending out warnings to other countries including India about not supporting this move. The US and its allies openly backing Taiwan for membership in an international institution is a significant geopolitical development in East Asian politics, and it has caught-up New Delhi in a complex diplomatic maze.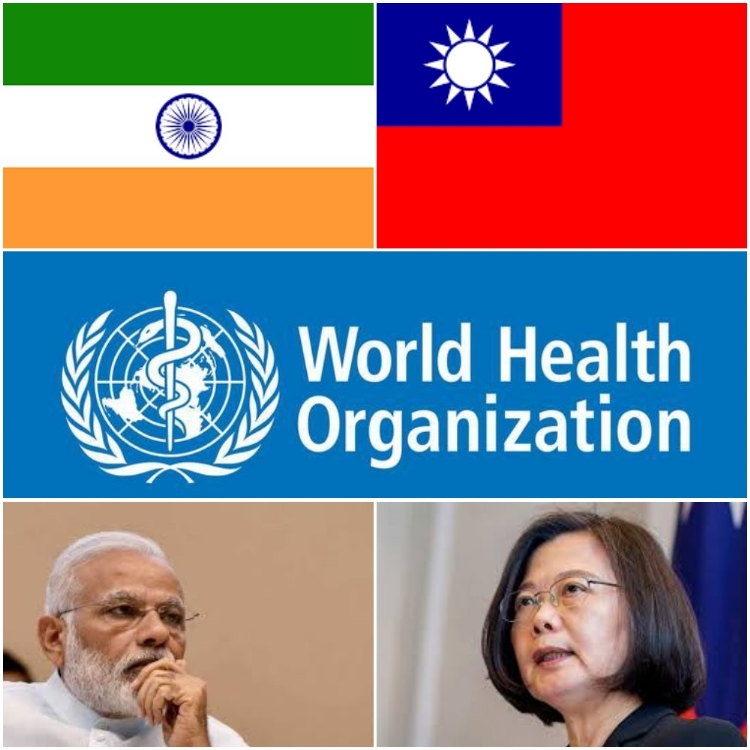 As this global Coronavirus pandemic deepens, the need to readdress the institutional capacities of WHO has received a popular mandate. WHO's role in co-ordinating a global response against this global public-health catastrophe, is far from satisfactory. For the last three months, nations are battling out this pandemic predominantly through their own capacities. And by far, the Taiwan government has done the most efficient job in containing the pandemic. Despite Taiwan's geographical proximity with Wuhan and high people-to-people contact with China, it contained COVID-19 to mere 440 cases and 6 deaths, without locking down its economy. Yet due to Beijing's iron-fist, Taiwan is kept out of WHO, when it could have contributed its expertise in formulating a coordinated response to deal with the pandemic. Therefore, in order to get Taiwan aboard in the global effort to contain the virus and begin with economic recovery, Japan, Australia, New Zealand Canada, France, Germany, the UK, led by USA have signed a proposal to grant Taiwan observer status at the WHA. Also at times when the whole world is in the grips of the pandemic, Beijing's aggressive drive to establish its hegemony in the global south along with challenging the legitimacy of liberal democratic world order - actively supporting Taiwan's independent existence is a part of wider geo-political strategies to thwart Chinese expansion.
Similar to Hong Kong, China and Taiwan have had a problematic relationship. While People's Republic of China (PRC) ruled by the Chinese Communist Party (CCP) views the island as one of its provinces, Taiwan-with its democratically elected government has different views about its status. With the rise of Xi Jinping, PRC has been pursuing greater integration of Taiwan with mainland China through its 'One China' policy. But the majority of the Taiwanese population is against this greater integration policy. During its iconic 'Sunflower Movement' in 2014, Taiwanese students occupied the parliament to resist their governments increasing proximity with mainland China. Since then, and especially with the electoral victory of Taiwan's pro-independence Democratic Progressive Party (DPP) and its presidential candidate Tsai-Ing-wen, Beijing has tightened its grip over Taiwan's international activities. More importantly, democratic aspirations and sense of political freedom in Taiwan (also in Hong Kong, Mainland China and Tibet) are pressing vulnerabilities for the Communist regime. Hence in his 2019 speech, President Xi has said that aspiration for freedom is a 'dead-end' and CCP will employ military action if necessary to prevent Taiwan's freedom.
Historically, Taiwan has not received diplomatic recognition from most countries, including India and USA. Both India and USA (in 1979) have formally accepted that Taiwan is a part of China as per the 'One China' policy. However, since 1979, the USA has a policy of 'strategic ambiguity' with Taiwan. Hence months after establishing formal diplomatic relations with Beijing in 1979, the US Congress passed Taiwan Relations Act, to maintain unofficial ties with Taiwan. This act allows the USA to sell arms to Taiwan for self-defence. And Trump administration is working to establish deeper ties with Taiwan by signing multiple arms deals, having more frequent US ships in Taiwanese strait and by creating a new plan to build the 250 million USD complex which will be US's de-facto embassy in Taiwan.
New Delhi, on the other hand, chose not to provoke China by establishing semi-official relations with Taiwan. In 1995, as a part of its Look East Initiative,
with the establishment of India Taipei Association (ITA), informal ties focusing on cultural and economic exchanges between India and Taiwan began. But N. Delhi was always more cautious of not offending China; hence, the relationship with Taiwan did not flourish. A more significant change came in 2016 with the victory of Tsai-Ing-wen's DPP. Tsai's 'New Southbound Policy' was aimed at diversifying Taiwan's economic exchanges to reduce its reliance on trade with mainland China. Tsai's policy, coupled with India's upgraded 'Act East Policy' provides for a flourishing engagement between the two countries. Even during the current pandemic, Taiwan was one of the major contributors of medical supplies and expertise to India. For the last four years, Taiwan has been making efforts to have closer ties with N. Delhi. But, so far, the South block has been prudent enough not to cross with Beijing. But Corona pandemic should change everything! It is a high time to rethink the traditional approaches for futuristic strategies and policies. And India being in a position to influence the global order (being Chair of WHO Executive Council) is another 'tryst with destiny.' And we better fulfil it by siding with Taiwan in this matter.
The advocates of maintaining caution and 'status-quo' about India's relations with China and Taiwan point out to the geographical and economic proximity with China along with the 'undependability' of USA. There is a sense in these arguments, but in this case, by supporting Taiwan, the positives out-weigh the negatives.
Firstly, Taiwan is a much bigger vulnerability for China than its relations with India or with the world. At times when China is aggressively pursuing its foreign policy to establish its hegemony over the global south, a challenge to its power and legitimacy in its very backyard is the last thing Beijing wants. Siding with democratic aspirations in Taiwan is an ideological shock to the legitimacy of a totalitarian regime. This could potentially be the beginning of Asia's 'Velvet Revolution.'
Secondly, worrying too much about provoking China is self-defeating in a sense that despite maintaining favourable relations, China has been routinely thwarting India's strategic interests in cases ranging from terrorism to Kashmir or Arunachal Pradesh. Having an aggressive stand on Taiwan, at the very least, would provide for a leverage for India in its future negotiations with China. Also economically, owing to India's large trade-deficit with China, trade with India is more crucial for Chinese interests than vice-versa.
Let us make no mistakes, that this pandemic is setting up the tone for the world order in the coming decades. China's mismanagement of early COVID-19 outbreak, lack of transparency thereafter and crackdown on whistle-blowers have already caused this deadly pandemic. And with China using 'information and psychological warfare' tactics to control the narrative while subverting the integrity of democratic institutions, the real bone of contention is not limited to Taiwan's place in WHO. The real era-defining issue here is that despite being the beneficiary of the 'liberal' system, the Chinese regime is not only suppressing the liberal democratic demands in its polity, but it is also exploiting the openness of democratic world to promote its interests and ideologies. The threat to the world, from Chinese high-tech authoritarianism, is becoming even clearer in the time of Corona pandemic. And with Taiwan's' issue at the front, the world is responding to Chinese totalitarianism. And this is India's another tryst with destiny of becoming a legitimate torchbearer of liberal democratic world order, that can counter the Chinese onslaught on the liberal world order.