Shambhavi Pramod Thite
The COVID-19 outbreak has claimed the lives of millions of people around the world. The virus has impacted over 180 countries and shuddered the world economy. International markets have suffered massive losses for the first time since the 2008 financial crisis. Central Asian countries are also being plagued by the disease.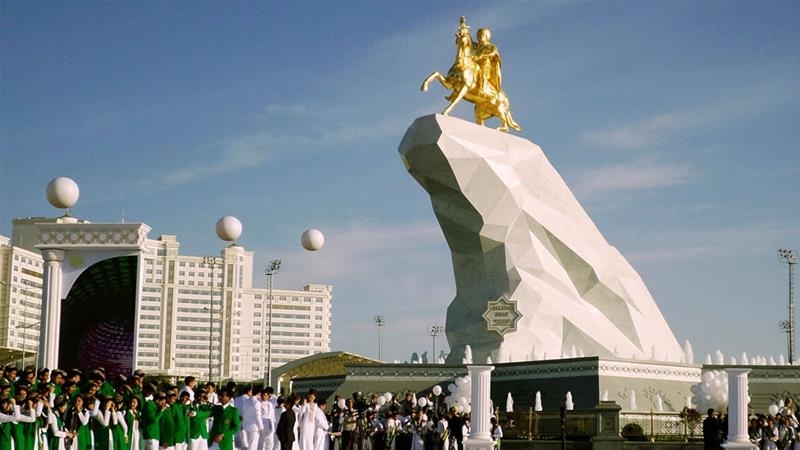 (Picture Credit: Al Jazeera)
Following the outbreak of COVID-19, Central Asian countries had imposed immediate travel restrictions and closed their international borders to control the spread of the deadly virus. Until now, not a single case of coronavirus infection have been reported in Turkmenistan, by the Turkmen government. But many human rights experts and journalists are highly sceptical about ground reality and believe that the Turkmen government is hiding the truth.
Turkmenistan is one of the world's most closed and oppressively governed countries. Presidential authorities control all aspects of public life. The government has banned independent monitoring groups and authorities tightly control the media. Turkmenistan's extremely authoritarian government is using the COVID-19 pandemic to restrain personal freedom. Gurbanguly Berdymukhamedov, authoritarian leader of Turkmenistan, is infamous for putting stringent restrictions on the mass media and repression of journalists. According to Turkmen Initiative, in early March, the Turkmen government issued a circular banning the term "coronavirus" and was aligned with general prevention of acute respiratory infections.
During a cabinet meeting in mid-March, President Gurbanguly Berdymukhamedov recommended burning harmala, to prevent infections without mentioning term coronavirus. On April 3, while addressing to the cabinet president said, the pandemic is a problem for the rest of the world, but not for Turkmenistan and expressed concerns about the country's economy. The reports by Turkmen Initiative said that the school in Ashgabat asked pupils to bring a supply of wipes, hand sanitizer and a thermometer by themselves to prevent the spread of Covid-19.
The authorities are taking significant measures for prevention of leakage of any information to the public about Covid-19. Radio Free Europe/Radio Liberty reported that, in late March, even as authorities were increasing measures to prevent the spread of the virus, police in civilian clothes threatened people who were talking about coronavirus. Reports of Turkmen Initiative around mid-April reported an incident in which security forces detained a doctor working in a quarantine facility and questioned him for two days straight for a minimal reason; He forgot to leave his cell phone in the locker before entering the facility. The security officials did not return his phone, warned him that he could face criminal charges, and questioned his wife, including about whether she had relatives abroad who might be interested in knowing what is happening inside the Turkmen quarantine zone.
Rights and Freedoms of Turkmen Citizens, an independent Prague-based human rights group, earlier contacted the medical community in Turkmenistan. According to their reports, doctors and junior medical personnel are not allowed to bring their cell phones at the workplace with them. A member of staff in an Ashgabat clinic told the group that doctors and nurses had to sign a nondisclosure statement. Diana Serebryannik, who fled Turkmenistan in 2015 and now leads the human rights organization Rights and Freedoms of Turkmen Citizens, said "There will be lots of death. They will bury them, and no one will know if they died from coronavirus or
any other disease." The Turkmen Initiative had also reported, conversation with a doctor from Ashgabat who told them that authorities at healthcare facilities are threatening medical workers and staff. Medical personnel will get fired if they spread information about Covid-19 and other contagious diseases.
The Rights and Freedoms group also mentioned a person who was recently released from one of the quarantine facilities told them, that they had not been given any medical documents which justify they had been through quarantine or even formal reports about their health and symptoms. Clearly, the Turkmen government is putting excessive efforts in hiding information related to the pandemic rather than tackling it.