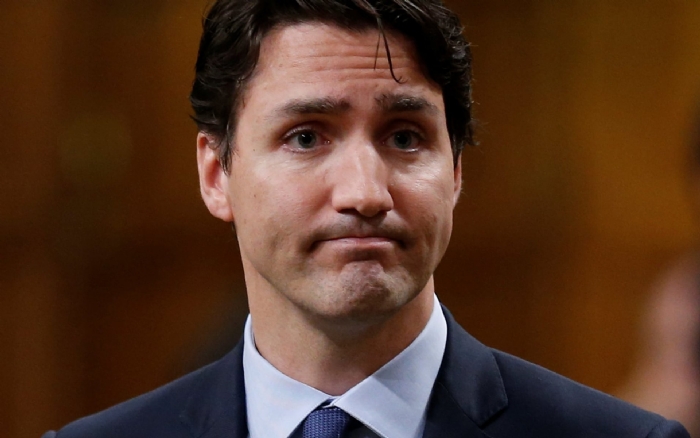 Don't touch the flame, he said, but Ted went ahead to touch and decide for Himself. What will you call such an individual? A habitual schlemiel or just a curious stubborn? In both ways, the individual will end up hurting himself. Now try describing someone who had seen Ted burning his hands in the flame, yet wants to see it for himself. Let's call him Brat. Now Say, Brat heads the affairs of a Nation, what will be the future of such a Nation? We shall leave it to the able creativity of our readers.
On 23rd June 1985, the world woke up to the worst act of Aviation terrorism till date followed by a similar attempt at Narita International airport bombing. While, the Air India Kanishka flight 182 bombing killed all 329 passengers on board, including 280 Canadian citizens and 24 Indians along with others. The Narita International Bombing was though planned by the Khalistani terrorist to explode at the same time with the Kanishka flight bomb in Mid Air, but a technical glitch caused it to explode early. Thus saving the number of casualties, but killing two baggage handlers and injuring another four. The severity of this act of aviation terrorism remained unmatched until the 9/11 bombings and remained to be the most significant act of terror on Canada and its citizens. However, contrary to what the world had expected of the Canadian government and Canadian civil society, they acted in complete inadequacy and the Khalistan extremism still blossoms in Canadian soil.
Macdonald-Laurier Institute, a premier Canadian Think Tank, published a report by Terry Milewski titled, Khalistan: A project of Pakistan that had made some startling discoveries. The report claims that Canadian intelligence knew about Khalistani terrorists plan to carry out a bomb attack, and they even tailed the Terror mastermind Talwinder Singh Parmar along with the bomb-maker Inderjit Singh Reyat to a test Blast. Yet they failed to preempt the attack and convicted only the bomb-maker Reyat, even after his confession on Parmar's role in the entire facade. The Canadian establishment painted it as an Indian tragedy, while the highest casualty was that of Canadians. They let Parmar on the lose, as if, they wanted the Khalistani terrorism to sustain and grow. Terry Milewski also gave an insight on how these fringe Khalistani elements were allowed to openly celebrate terrorist and most importantly Parmar, a terror mastermind who murdered hundreds of Canadian citizens, as a martyr. The M-L Institue report also briefed how Parmar's poster honouring him as a martyr is on display in the Dasmesh Darbar gurdwara in Surrey, BC and how Khalistani extremists groups are still functioning unabated in Canadian soil and at times appeased by the highest functionaries.
Ujjal Dosanjh and Shuvaloy Majumdar, who had written the forward for the M-L Institute report, stated their view on Khalistan as,
"The proposition of an independent Khalistan, in truth, is a backward idea from a backward time. It is a proposal without economic or democratic logic, unloved by the very Punjabis whose lives it would most directly affect. It is a fantasy rooted in religious bigotry and chauvinism, kept alive in Canada by thugs and political hustlers unbothered by the innocent lives that have been lost in its name. It is a proposal hostile to Canada's interest in seeing a united and prosperous India, and in that sense, threatens not just one country, but two. In the service of this cause, extremists animated by Pakistan seek to distort history and betray the vast majority of Sikhs who live in peace and freedom." It is important to note here that, Ujjal Dosanjh is a former member of the Canadian Parliament and originally hails from the Indian state of Punjab, thus has a deep understanding of the issue.
The appeasement of Khalistani extremism reached a new paradigm under the poster boy of liberalism and the current prime minister of Canada, Justin Trudeau. With an eye on Sikh votes and with zero understanding of the issue of Khalistan, his Liberal Party of Canada had committed a grave mistake of equating Khalistani extremism with Sikhism. While 99% Sikhs in India and even in the Canadian diaspora has completely discarded the idea of Khalistan, yet Justin Trudeau's Liberal party is hell-bent in engaging with these Khalistani fringe elements as the sole representatives of the Sikh diaspora. Thus in the process are bringing a bad name to the Sikhs in Canada and letting the authentic Sikh voice to suppressed and dictated by a few loud voices.
An article published by the economic times further suggests that Justin Trudeau's party might receive a fair amount of funding for their election campaigns from some of these prominent so-called Sikh leaders. The latter, who projects a perception that they control both the Gurudwara cash and the Half million-strong Sikh vote base in Canada, often dictate these Liberal politicians lacking the iron resolve to address matters affecting national security. They not only influence policies related to internal security but also dictate policies related to external diplomacy and strategic affairs. The decaying diplomatic ties with India at the cost of Appeasing few radical elements for an Idea that has lost traction not only in the Sikh diaspora but also in the state of Punjab that houses the largest Sikh population is a strong testimony to this fact. The point that Khalistan is a pet project of Pakistan that received funding and logistical support from ISI and that Justin Trudeau's party has received financial support from these elements, all points to a reality that our readers capable of deciphering.
The M-L institute report on Khalistan perfectly addresses the question as to why it is a Pakistani pet project and also briefs as to why it is not only an issue of revenge for the 1971 war and creation of Bangladesh but is a strategic military requirement for Pakistan. On the one hand, the late Pakistani Prime minister, Zulfikar Ali Bhutto in 1973 commented that "Pakistan will also have a Bangladesh carved out of India...except it will be on Pakistan's border", while on the other hand, General Muhammad Zia-ul-Haq Husain Haqqani, a former Pakistani Ambassador to Washington, said that "bleeding" India was certainly the main motive, but a second was to create a strategic "buffer" between India and Pakistan. Thirdly, he says, a state of Khalistan would "end India's land access to Kashmir," to the north – another key interest for the Pakistani leadership". Nevertheless, Gen Haqqani also agreed that Pakistan's only part was to bleed India and was well aware of it to be unachievable and had no emotional or sentimental quotient to it. The Pakistani Military saw the Khalistan moment as a Chance create a buffer state between itself and India, and increase its strategic dept from the Indian front line.
The Manohar Parikkar Institute for Defence Studies and Analysis, formerly known as the IDSA defined Strategic dept as "the distance between enemy forces and the main centres of gravity of a country. These centres could be military frontlines, bases, or industrial and commercial hubs. For a military professional, the greater the distance that has to be traversed by enemy forces to reach these bases, the better are the chances of a successful defensive operation. This is primarily because it gives the defender more time and space to organise the defence and stretches the enemy's logistical chain." However, the dream of Khalistan will remain a fantasy for t Pakistan and its stooges. But the more pertinent question that Canadians need to ask themselves now is, whether they want someone like the Brat of our story to lead them, or they want someone more responsible and capable to steer them through the actual realities. Till then, dear Canadian brothers and Sisters, Justin is all yours!!!
Finally, as I conclude, I offer my salutations to the lotus feet of the great Gurus who started the Khalsa Panth to protect the Nation society of India and in the process made supreme sacrifices. I pray to them to bestow us with strength and courage and steer us out of the darkness of Ignorance.