In The Name of Democracy, Secularism and The FCRA!
-
(A preview into the myriad offences, whatnots committed in the holy name of the aforesaid trio)
(First article of multi part series exposing anomalies in FCRA beneficiary NGOs in India)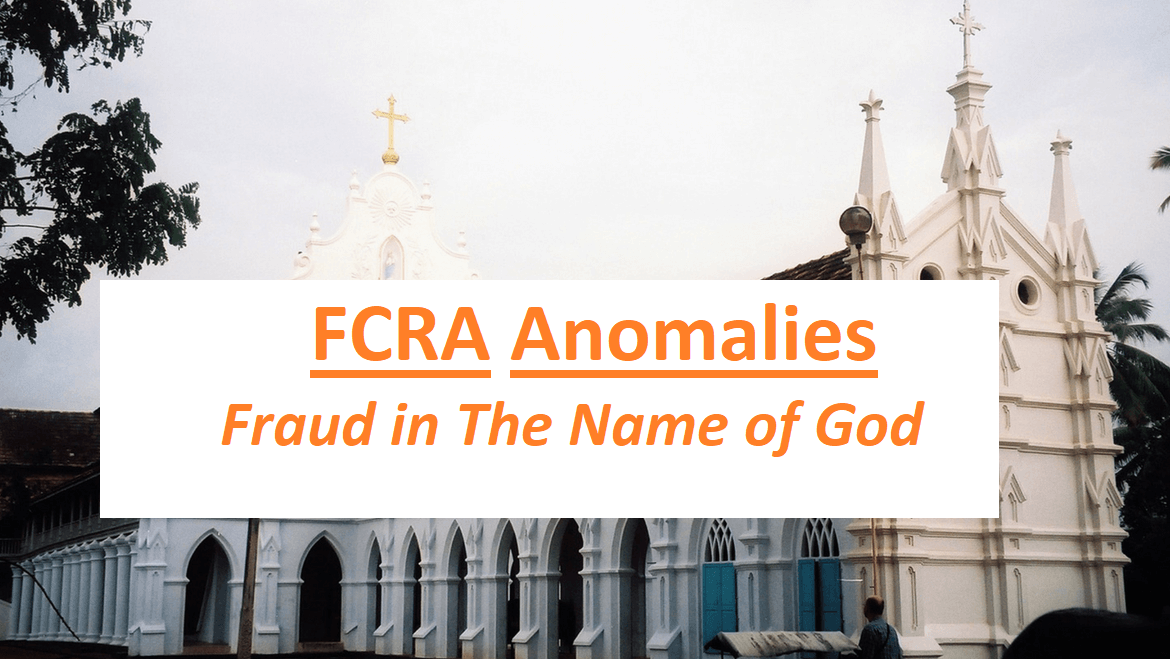 Little did the legendary Nani Palkhivala (a yesteryear formidable advocate in India) know when he challenged the State's power to interfere with the curriculum and syllabus for religious, cultural or linguistic instruction being imparted in unaided and unrecognized educational institutions run by a religious or linguistic minority in The Ahmedabad St. Xaviers College Society And Anr vs State Of Gujarat & Anr on 26 April, 1974; that India, a secular State would in the near future see a well-oiled conspiracy to challenge and change its demographics using the 'free-run on administration' right bestowed upon the minority institutions, reaffirmed in this case.
A quick glance is called for into one such lamentable result this judgement by the Constitutional Bench of the Honorable Supreme Court of India led to:
Nalgonda Diocese, abused this bona-fide judgement favouring the minorities by entering into a

'Special Agreement'

with the Manager of Joseph Chevalier Foundation, located in Gatineau, Province of Québec, Canada. The atrocity of this agreement lies in the foulest object for which the agreement was entered into – "Sponsoring the education of a child is helping a child of one of the lower castes. Traditionally they are denied all access to education. By way of sponsoring, accommodation, food, medicine, study, games and recreation; spiritual knowledge and religion are provided to them (children). The sponsoring programme is part of the pastoral plan of the diocese as a new way of being church."
which

is illegal as per Section 23 and 24 of the Indian Contract Act and hence unenforceable. This is also because of 'pactis privatorum juri publico non derogatur' which means private agreements cannot alter the general law and the law of our country is very clear about this, under Article 25 (1) of the Constitution it is made amply clear that Right To Freedom of Conscience is a Fundamental Right guaranteed to every citizen of this country, hence, cannot be violated.
In
Rev. Stanislaus v. State of Madhya Pradesh, (1977) 1 SCC 677 the Apex Court held, "It has to be remembered that Article 25(1) guarantees 'freedom of conscience' to every citizen, and not merely to the followers of one particular religion, and that, in turn, postulates that there is no fundamental right to convert another person to one's own religion because if a person purposely undertakes the conversion of another person to his religion, as distinguished from his effort to transmit or spread the tenets of his religion, that would impinge on the 'freedom of conscience' guaranteed to all the citizens of the country alike. It has to be appreciated that the freedom of religion enshrined in the Article 25 is not guaranteed in respect of one religion only, but covers all religions alike, and it can be properly enjoyed by a person if he exercises his right in a manner commensurate with the like freedom of persons following the other religions. What is freedom for one, is freedom for the other, in equal measure, and there can therefore be no such thing as a fundamental right to convert any person to one's own religion."
Dissenting judgements of Justices Beg and Dwivedi in St. Xavier's Case are worth mentioning here, as they rightly foresaw what would transpire in all probabilities when unbridled rights are bestowed upon minority institutions without any incumbent duties to be adhered to; according to Justice Beg in his dissent in the above mentioned case, "…But, if a minority institution has the option open to it of avoiding the statutory restrictions altogether, if it abandons with it the benefits of a statutory right, I fail to see how the absoluteness of the right under the Article 30 (1) of the Constitution is taken away or abridged. All that happens is that the statute exacts a price in general interest for conferring its benefits… This article, meant to serve as a shield of minority educational institutions against the invasion of certain rights protected by it and declared fundamental so that they are not discriminated against, cannot be converted by them into a weapon to exact unjustifiable preferential or discriminatory treatment for minority institutions so as to obtain the benefits but to reject the obligations of statutory rights…"
Scholarly researches support the dissenting judgement in St. Xavier Case:
From the scholarly researches of Matilda Joslyn Gage in Woman, Church And State first published in the year 1893, Catherine Nixey's The Darkening Age first published in the year 2017, to our very own Indian researchers Rajiv Malhotra & Aravindan Neelakandan's Breaking India first published in 2011 and Milind Oak's Cross Purposes first published in the year 2012 (he was a pioneer who embarked upon FCRA activism initially when Indians were none the wiser about the atrocities committed misusing the shortcomings in the Act), abundant data has piled up necessitating an apt relook into the dissenting judgement of Justices Beg and Dwivedi, may be it is still not too late to bring in some amendments in the nature of 'reasonable restrictions' for Articles 29 and 30 of our Constitution.
Foreign Contribution (Regulation) Act – (The Foundation On Which An Entire Rathole System Came To Thrive Upon)
Case Study 1:
By the absolute right granted under Articles 29 and 30 of our Constitution, of course the minority institutions began to flourish like never before. The Foreign Contribution (Regulation) Act first enacted in the year 1976 with an intention of monitoring inflow of foreign funds into India, proved to be in the nature of a 'Midas Touch' to the minority institutions, as it made it easy for them to portray orphans and children in general as hapless souls ripe to be harvested, needing more funds from foreign organizations to be saved from their haplessness as well as their pagan religious identity. The Act just provided a legal shield to the numerous illegal acts committed by minority institutions, whether be educational, social service providing NGOs or otherwise, as it became quite evident that the foreign funds begotten through FCRA, by such begging tactics, had the coupled advantage of linking Articles 29 and 30 to their operations, thus conveniently doing away with the most important checks and balances needed to stop any exploitation such limitless power could easily lead to.
Anomalies Analyzed:
Babtist Bible Fellowship:
This FCRA registered NGO was so enthusiastic in proclaiming the 'evil act' it carried on in the name of 'full-fledged autonomy to run educational institutions by minorities', that it wrote and provided proofs to its parent organization in USA about the rich harvest it had reaped through its Nimbodi School in the form of non-Christian children being baptized, with monthly numbers submitted to the parent organization quite diligently under the hand and seal of its Missionary in India, who was incidentally the Chief Functionary of this NGO as registered under the FCRA domain too! The confirmation letters run in an ecstatic tone, "The children loved playing soccer with them (refers to a visit to this school of the Chief Functionary's Aunt) and hearing what the Lord Jesus has done for them and will do in their lives if they will let Him guide them." This would always be corresponded with the number of people proselytized. It seems this educational institution surely found a fail-safe method of getting innocent children proselytized under the very nose of the Authorities as one can see, the Articles in the Constitution and also the Landmark Judgements made it a 'no-go zone' to impose any sort of restrictions on such minority institutions!
Case Study 2:
Children, who are generally the depicted picture of innocence are invariably most vulnerable and voiceless when it comes to protecting and safeguarding their own rights, be it Human or Fundamental; the case takes a downward spin in case of children in orphanages. Though the United Nations Conventions on the Rights of the Child (UNCRC) states, "State Parties undertake to respect the right of the child to preserve his or her identity, including nationality, name and family relations as recognized by law without unlawful interference." and subsequently the Government of India ratified the UN Convention on the Rights of the Child (UNCRC) in 1992, when it comes to implementation, their rights more often than not are vanquished, usurped by the minority religious institutions running 'n' number of orphanages. Section 41(1) of the Juvenile Justice (Care and Protection of Children) Act, 2015, moreover mandates that all institutions, whether run by the state government or by voluntary or non- governmental organisations, for housing children should be registered under the Act, in case of non-compliance, the in-charge of the orphanage could face a one-year jail term or fine upto Rs 1 lakh for violating the law; still there is an everlasting supply of orphanages run by minority institutions, violating all these provisions.
Anomalies Analysed:
i) Zion Ministries:
This NGO was found to run two known orphanages namely Shanti Nilayam Peace Home For Kids and Daughters Of Zion. Zion Ministries boasts that the orphanages are just an instrument, "to train soldiers for the coming of the Lord Jesus Christ, to create sound Christian schools for all ages where the Word of God will be taught with fear of God." The NGO does not show even an ounce of shame when it states that it houses 53 children in its Home receiving free food, shelter, education, medical aid and especially 'Christian Care'! Of course, secularism is practiced in word and deed selectively in India by only the majority religion; as for the rest, they throw all caution to the wind being amply armoured by their minority privileges.
ii) India National Inland Mission:
This NGO runs two known orphanages namely Bethesda Children's Home and Bethel Home which is directed by one Dr. K V Paul Pillai whose notoriety can hardly be surpassed by any evangelist as he has been in the business of 'Bringing souls to Christ, teaching souls in Christ, sending souls for Christ since 1964'! The Bethesda Children's Home alone has about 1500 children who have been thoroughly brainwashed, evangelized and are now pastoring and declaring the love and goodness of Christ throughout India. Bestowing great power in minorities' hands, without any liability to be practised on their part will only lead to such horrifying, unimaginable offences taking away the Right To Conscience granted to even the children of this country alike, be it orphans, dependents, street urchins, etc.! However, blinded by lack of conscience, motivated by a zealotic mania, armed with free-flowing foreign funds, the victim children have no hope, but succumb meekly to the onslaught of these fanatics.
The above two anomalies offer a sneak peek into the thousands and thousands of orphanages involved in illegal religious conversion business, the real picture is much gorier, more pathetic and difficult to comprehend by a layman.
Commendable Intervention:
The Commission For Protection Of Child Rights (NCPCR) as lawful voice for these children's rights, has taken up this issue and has been addressing it on a war-footing to try and alleviate the suffering of these orphans.
Case Study 3:
India, as a nation, has and is doing as much as possible to better facilitate the interests of the people belonging to SC/ST community since its independence in adherence to Articles 341 and 342 of our Constitution as part of a protective discrimination. In the light of such a warranted undertaking, certain special privileges are made available to some categories of citizens as notified under the Scheduled Caste and Scheduled Tribes Lists (Modification) Order 1956; one amongst them is reservation of seats in Legislatures as well as Government Service. However, to be eligible for such privilege, an eligible person is made mandatorily to be in possession of a valid Caste Certificate. Moreover, the Honourable Supreme Court has held in Chairman And Managing Director FCI And Ors v. Jagdish Balaram Bahira And Ors, on 6 July, 2017, that public servants, whose caste certificate is found to be fake, cannot be granted protection and allowed to remain in service even if he or she has spent sufficient time in the job. The Apex Court further elaborated, "Even if a person has been in the job for 20 years on the basis of a fake caste (document), he/she will lose the job and also get punished," What if it were to be found that the minority institution running people, moreover, so called holy men, made it a point to openly abet hiding of the conversion of Dalits into the Christian-fold, so as to make them keep up their special privileges? Well, one needs go no further than -
Action To The Church In Need:
The official Facebook page of this organization finds one Father Prem Prakash, Vicar General of the Archdiocese of Patna in an unbelievable video posted on 8th April, 2018 wherein he bemoans the loss of special privileges to the converted Dalits and stresses that in order to keep such privileges they have to keep mum about their conversion. In not so many words, the Vicar General already aided and abetted the crime of using invalid and spurious caste certificates by Dalits converted into Christianity to keep their privileges perpetual! Hearken! Such unholy words should definitely not mar a holy man's statements!
Well, the trailer is here, follow through for the next set of case studies in subsequent installments.