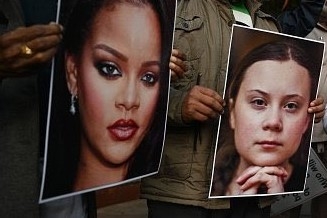 Three women practising professions, which could rarely cross paths; were found endorsing the farmers protest being held on the periphery of the Indian capital city of Delhi. The pop singer from US named Rihanna, a young environmental activist of Sweden, Greta Thunberg, an adult movie star by the name of Mia Khalifa used microblogging websites to extend support to the protests against the new farm laws in India besides some other public figures. An event which perhaps, is very difficult to be digested as a mere coincidence in the age where social media is used, in a well-coordinated manner, as an important tool in building perception and opinions.
The response and sharp reactions to the opiniated tweets of these celebrities by Indians are not without reason. In the 21st century, electronic PR campaigns are being used to access and capture the attention of billions. Even the US presidential elections, have not been left untouched by the allegations of how digital access yields influence, in shaping opinions. The election of Donald Trump as the President in 2016 and his defeat in 2020 was surrounded by such allegations. All netizens having presence in the virtual world, share and express their views on various happenings across the world. Celebrities too in their individual capacity can exercise this rightfully and hence the outrage on some of them who criticised the farms laws was more about their earnestness and informed commitment towards a serious and real issue.
Many celebrities, at times associate themselves with contemporary issues to remain in the public eye or to promote their products. During the JNU student protest and violence, related to hostel fee hike last year, a famous Bollywood film star who was in town to promote her film decided to extend her solidarity, by visiting the venue of protest. At times, some celebrities are also available to 'rent a cause', just as they take endorsements of products, to advertise. There are allegations already floating in the press that popstar Rihanna was paid in dollars an amount equivalent to rupees 18 crores by a public relations firm called Sky Rocket. Interestingly, a gentleman named MO Dhaliwal who is a Director in this firm, is also one of the founders of a Canadian organisation called Poetic Justice Foundation.
Poetic Justice Foundation is alleged to be the organisation which created the bank of information, events, strategies, words and videos to instigate unrest and disharmony, in social media against the farm laws, shared by the teenage environmentalist Greta Thunberg. Joining the dots of the various players and plots against the farm laws suddenly starts making sense. As an environmental activist who does not believe in travelling by plane as it contributes to carbon emission, Greta's observation on the Indian government offer to the farmers, to dilute the fine imposed on stubble burning is yet to be seen. Also, in her home country Sweden, dissemination of propaganda is considered a crime and so are the efforts made towards intentionally affecting public opinion. Farmers like all citizens of this nation, have a right to peacefully protest and share their apprehensions. An agitation which is largely limited to only two states out of twenty-seven, when is called as the largest farmers protest in the history from the overseas, one can smell the rat.
Dr. Geeta Bhatt is at present Director, Non- Collegiate Women's Education Board, University of Delhi