In The Name of Democracy, Secularism and The FCRA!
Three Conmen and Their Story: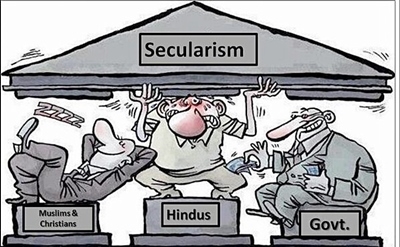 Case Study 4:
It all began in Naxalbari, West Bengal with armed clashes outbreak, which became a monster coining the term "Naxals", spreading its tentacles from rural, forest hideouts to universities, which became the breeding grounds for Naxalite ideology; trapping gullible tribal people's minds and young minds in its snare, corrupting them to be agents of anti-national activities, mobilizing them at its beck and call as foot soldiers to bring much needed clout, power and money to the puppet masters' behind such conspiracies. To deal with this menace, on 22nd June 2009, the Government of India banned the Communist Party of India (Maoist) through a notification of the Ministry of Home Affairs. Branding the CPI (Maoist) as a terrorist organization, the Government invoked Section 41 of the Unlawful Activities (Prevention) Act against it, which is a special act which enables the Central Government to declare an association as unlawful. Thus, the self-proclaimed vigilantes and Robin Hoods' ugly face came to be unveiled!
Anomaly Analyzed:
Stan Swamy, The Urban Naxalite and the Elgar Parishad-Bhima Koregaon case (the role of foreign entities contributing to Indian NGOs through FCRA donations, striving hard to get him released):
When it comes to breaking India from within, of course the age-old 'the enemy of my enemy is my friend' is strictly adhered to, as can be seen in the nexus between Urban Naxals and Churches and foreign donations flowing to pressurize the Central Government as much as possible to secure release of Urban Naxalites.
Some donor organizations and Indian NGOs working hand in glove for the Naxalite agenda are:
i) Aid To The Church In Need (ACN International), Germany by partnering with Claretian Society (FCRA No.: 147110110) stating, "Statement on the incarceration of 83-year-old Jesuit priest Fr Stan Swamy – Königstein im Taunus, 8 December 2020: The executive president of ACN International, Dr Thomas Heine-Geldern, released the following statement: 'The international Catholic pastoral charity Aid to the Church in Need (ACN) supports the calls for the release of Jesuit priest Fr Stan Swamy, who has been incarcerated since 8 October for alleged illegal activities and denied release on bail."
ii) Jesuit Mission, Germany by partnering with Chotparua Jesuit Society - Raniganj (FCRA No.: 146900014) stating, "Jesuit Provincials advocate for liberation of Stan Swami: On April 26th, Father Stan Swamy turned 84 years old. On this occasion the Jesuit Conference of European Provincials addressed a letter to Josep Borrel (High Representative of the Union for Foreign Affairs and Security Policy of the EU). The letter signed by the president of JCEP and co-signed by the 19 provincials of the European Conference is demanding the EU to take action. It calls the European Union to defend Father Stan Swamy SJ from this unjust persecution by asking the Indian Government for his liberation. Attached you will find the letter. On 8th October 2020, Fr Swamy was unjustly imprisoned and he has been in jail since then." This is addressed to High Representative of the Union for Foreign Affairs and Security Policy European Commission Brussels Belgium on the 20th of April 2021!
These are just two examples out of numerous Indian NGOs pressurizing through foreign donor organizations to set Naxalite Stan Swamy scot-free from the clutches of procedure established by law in India.
Case Study 5:
Honourable Supreme Court of India has time and again held that quacks terming themselves as miraculous healers who are misdiagnosing and mistreating and encouraging spread of drug-resistant diseases are a menace. The Supreme Court has also held that no doctor can practise a system of medicine that he or she is not well-versed in. Moreover, as per the Rules of Medical Council of India, quackery is a punishable offence in India. The Apex Court moreover states that our Constitution proclaims quackery as a cognizable offence and only qualified doctors should do practice.
Anomaly analyzed:
Ankur Narula and his crony Spiritual Welfare Society:
Ankur Narula Ministries and Spiritual Welfare Society NGOs have their base in Punjab, they are continually creating mass hysteria, frightening people only to make them vulnerable enough to fall prey to spurious evangelization conspiracy! The modus operandi of the illegal activities includes – miracle healing from cancer and AIDS, spreading wild superstitions, deliverance from evil, false claims as to curing respiratory illnesses, ovarian cysts , ear diseases and also helping to beget children all through miracles, you name it and all the assortment of tools to lure hapless people into evangelization trap is already in their arsenal! A quack show like 'Benny Hinn Healing Crusade' seems to be the method adopted to proselytize. It is indeed a tragedy that the brave Sikhs whom even the mightiest swords could not slay are being slayed of their identity by the purported Christian black magic weaponry!
Case Study 6:
The Asiatic Elephant is listed as "Endangered" on the IUCN Red List; the elephants also hold several legal protections in India. They come under the classification of the species as a 'Schedule I Animal' under the Wildlife Protection Act of 1972. "Under Section 52 of the Act, an attempt or an abetment of an offense under the Act is deemed to be equivalent to committing the offense itself". Any individual found to have committed such an offense may face imprisonment of up to seven years or a fine of maximum twenty-five thousand Rupees. Offenses against any schedule I species under the Wildlife Protection Act are non-bailable in nature.
Anomaly analysed:
Paul Dhinakaran (A notorious evangelist's empire spread over 936 acres of land, built illegally on Elephant Corridor in Western Ghats):
The greed of an evangelist to create his own empire is also a part of how FCRA is being misused to amass funds for the same cause. Paul Dhinakaran is a real estate mogul, a self-proclaimed Godman who has properties even in foreign countries like Israel, USA, UK, Canada, Australia, New Zealand, Fiji Islands, South Africa, Malaysia, Singapore, Sri Lanka where international prayer towers have been established by him. He establishes Karunya University which sits on the elephant corridor, also containing wetlands and several water sources of River Noyyal. This University has additionally encroached on an ancient Adivasi Sadiana temple and also on 97 acres of traditional common grazing land.
In Hospitality Association Of Mudumalai v. In Defence Of Environment And Animals And Ors. Etc. in Civil Appeal NOS.3438-3439 OF 2020, the Honourable Supreme Court of India has set a precedent for effective pachyderm-protection laws in future by ordering the shutdown of illegal resorts built on Sigur Plateau Corridor in the Nilgiris. This is very much relevant in the present case as the Karunya University sits in this very protected area. The University has opened shop in the natural habitat of these "Keystone Species" in the forest ecosystem who are termed as the "National Heritage Animal of India" by the Union Ministry of Environment, Forest and Climate Change.
The rise from meagre 14.9 acres land in his name to an empire of 936 acres of land under the pretext of constructing the University in eco-sensitive zone in the Western Ghats, that too 'without permission / consent required under Section 47A of the Town and Country Planning Act 1971' is indeed a phenomenal growth albeit a detrimental one!
(To Be Continued)