OF PONTIFICIUM OPUS A SANCTA INFANTIA - Vatican's (Un)Holy Childhood Programme!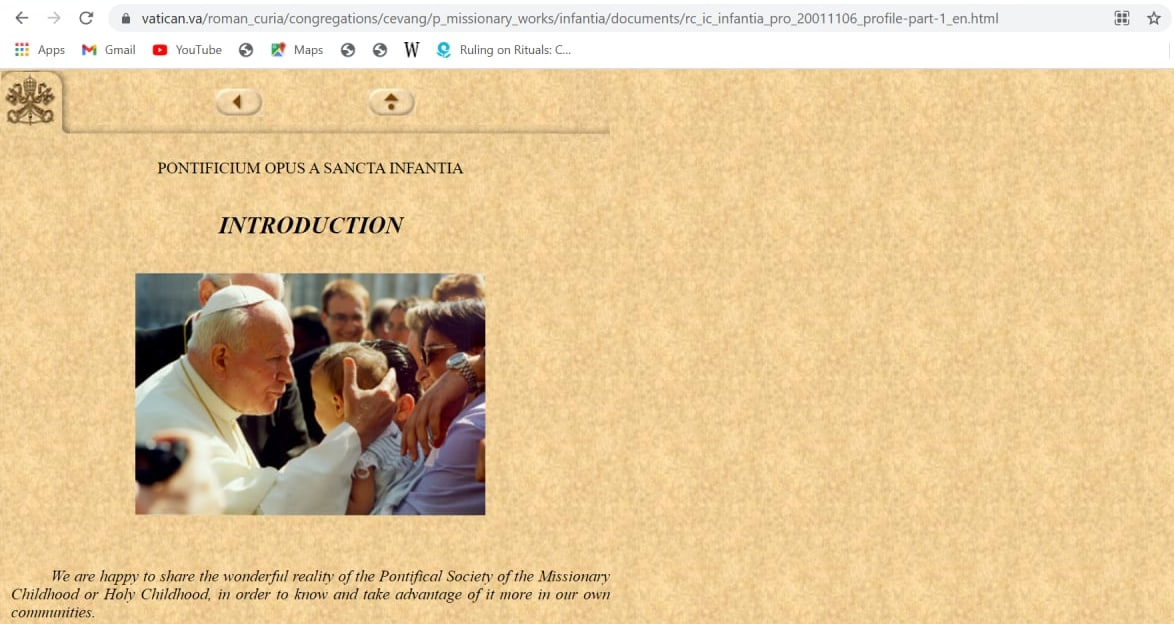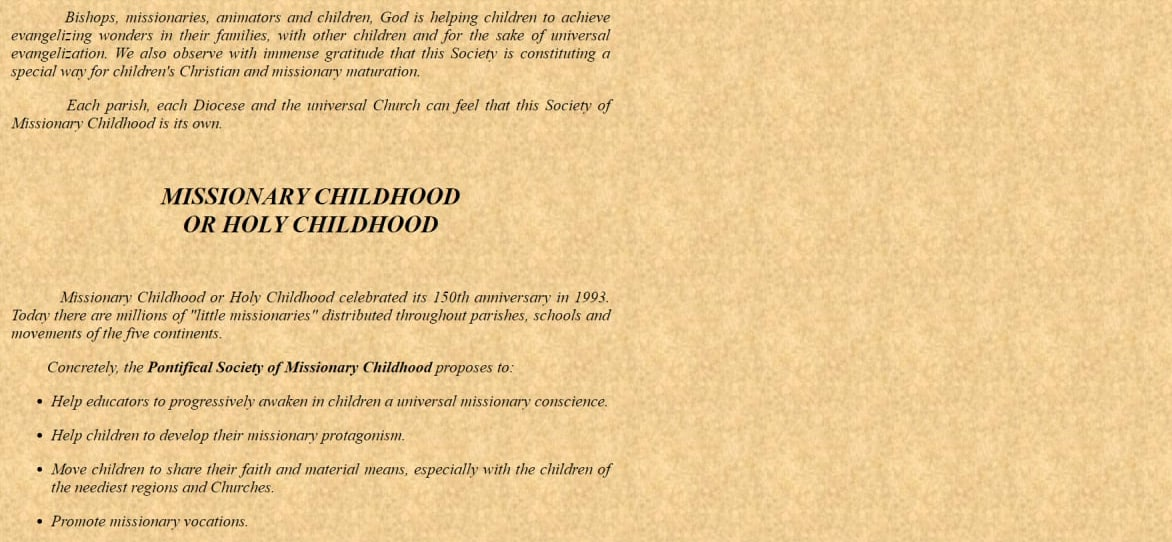 It is indeed an open secret now, that evangelists have infiltrated every nook and corner of this nation, but can one imagine child evangelists? That too brainwashed and tailor-made to proselytize once they reach majority? Does it not seem like déjà vu? However, here it is not the madrasas training children to be future-terrorists, it is a church-sponsored programme training 'little missionaries' to facilitate missionary protagonism in them since their early childhood! The need for evangelising the world is felt so acutely that it is being conducted in a 'giddy-up' pace!
It is only pertinent to know what Missionary Childhood actually stands for, which as explained in TOMUS CXLIV VOL. N. 605 of PONTIFICIUM OPUS A SANCTA INFANTIA's ANNALES 2009 – 2013, English Version elucidates as follows:
"THE MISSIONARY CHILDHOOD: A. GENERAL PRESENTATION OF THE SOCIETY:
In 1843, H.E. Monsignor de FORBIN-JANSON, Bishop of Nancy, founded the Association of the Holy Childhood in the wake of Pauline JARICOT, who in 1822 had launched the Association of the Propagation of the Faith from Lyons. His great intuition was to entrust children with a specific missionary role to build up, as it were, a Propagation of the Faith suited to their needs.
The main purpose of the Association was and still remains:
1. to make children aware of the universal mission of the Church with particular reference to evangelization, human education, and the moral as well as physical protection of other children throughout the world, and to stimulate their prayer and generosity through information adapted to their capacity.
2. To help in Mission countries those concerned with children (maternity hospitals, nursery centres, dispensaries, primary schools, catechetical work, vocations and apostolate among the children).
With time, the methods of the Holy Childhood - also called Missionary Childhood - may have changed. But its twofold purpose, educational and charitable, remains the same.
The Superior council is composed of the following members:
• the president;
• the secretaries general of the four Pontifical Mission Societies;
• the under-secretaries of the Section for Relations with States of the Secretariat of State, of the Congregation for Bishops and of the Congregation for the Oriental Churches;
• the national directors of the PMS (Statutes of the P.M.S. 2005 edition, Art. 34) who examines the documentation on requests for aid and draw up proposals for the granting of subsidies.
The Pontifical Association of the Holy Childhood is at the service of the local Churches, to assist educators to awaken and gradually develop in both children and adolescents a worldwide missionary consciousness, in order to guide them towards a spiritual communion and material sharing of their resources with children of other Churches, especially those in difficulty. Everyone has something to give and to receive and their motto is: children helping children (Statutes 2005, art. 13). With the development of the mass media and the circulation of information in the modern world, it is easier to urge children of one country to be open-minded to the needs of children of other countries and to develop in them a true missionary spirit."
Under Missionary Childhood/Holy Childhood Project as given in the official website of the Vatican, it is described further as, "PONTIFICIUM OPUS A SANCTA INFANTIA: INTRODUCTION - We are happy to share the wonderful reality of the Pontifical Society of the Missionary Childhood or Holy Childhood, in order to know and take advantage of it more in our own communities. Bishops, missionaries, animators and children, God is helping children to achieve evangelizing wonders in their families, with other children and for the sake of universal evangelization. We also observe with immense gratitude that this Society is constituting a special way for children's Christian and missionary maturation. Each parish, each Diocese and the universal Church can feel that this Society of Missionary Childhood is its own. MISSIONARY CHILDHOOD OR HOLY CHILDHOOD: Missionary Childhood or Holy Childhood celebrated its 150th anniversary in 1993. Today there are millions of "little missionaries" distributed throughout parishes, schools and movements of the five continents. Concretely, the Pontifical Society of Missionary Childhood proposes to: Help educators to progressively awaken in children a universal missionary conscience. Help children to develop their missionary protagonism. Move children to share their faith and material means, especially with the children of the neediest regions and Churches. Promote missionary vocations. To be integrated into the overall pastoral program of Christian education, to which it will contribute its missionary projection. In order to achieve its objectives, Missionary Childhood lends two services to children: the first and principal one is missionary education; the second is missionary cooperation with the neediest children and the missions of the whole world. Therefore, the Pontifical Society of Missionary Childhood or Holy Childhood, which is a Society of the universal Church and of the local Churches, is animating and forming children (up to 14 years of age) from a missionary viewpoint and their educators so that they will live in ecclesial missionary communion and carry out their local mission and their missionary cooperation with universal evangelization, especially of children. The boys and girls belonging to Missionary Childhood, accompanied by their animators, propose to be missionaries in their communities and to help the children of the whole world. They are friends of Jesus and they make friends for Jesus. Educators, parents, catechists, young people, religious sisters and priests can participate in this Society as animators of Missionary Childhood. The animators help and guide the children while letting them take on their own responsibilities and accompanying them in carrying out everything that they themselves must do. The universal Church asks all the ecclesial Institutions and Movements to collaborate with Missionary Childhood in its life and service to the children of the whole world."
Under this is a programme, monetary aid is provided to orphaned children to contribute to their Christian and Missionary education, the details of the programme states, "PONTIFICIUM OPUS A SANCTA INFANTIA SECRETARIATUS INTERNATIONALIS APPLICATION FOR EXTRAORDINARY SUBSIDY: NUMBER OF CHILDREN UP TO 14 YEARS to benefit from the requested aid: ____. PARTICULARS IN DETAIL A clear and complete description of the project: 1- Who is responsible for it? 2- Implementation, reasons and aim: what does he/she wish to achieve and why is such project necessary? Which needs of children the project covers and how would it contribute to the Christian and missionary education of children? How is the project is to be achieved (stages-steps-activities) - who is to take care of its upkeep in the future? How did you cooperate with Missionary Childhood last year? ¨ How did you organize the Holy Childhood? ______. ¨ Amount of your contribution to the Universal Solidarity Fund of Holy Childhood: ______... C. Amount requested to the Missionary Childhood: _____. Opinion and approval of the Diocesan Bishop: ______... GENERAL REMARKS 1. This request, FILLED IN ALL ITS DETAILS, should be approved and signed by the Bishop of your Diocese and mailed by the Apostolic Nunciature to the General Secretariat of the Pontifical Society of the Missionary Childhood (Via di Propaganda 1/c - 00187 ROME), which should be reached, during the year, BEFORE THE 15 OF DECEMBER. 2. Any subsidy shall be sent to the Apostolic Nunciature which will make the correspondent payment. 3. The extraordinary subsidy approved by the Superior Council of the Pontifical Society of the Missionary Childhood normally represents only a PARTIAL CONTRIBUTION from the children to the realization of the project. Such contribution isn't compulsorily renewable."
This arm of Vatican Holy See has an Indian branch i.e., Pontifical Association of the Holy Childhood with FCRA Number: 094420372!
List of some Indian NGOs who are Recipients of donations for Holy Childhood Programme:
1. Archdiocese of Bangalore with FCRA No.: 094420134
2. St. Francis Society with FCRA No.: 063460007
3. Sagar Diocesan Service Society with FCRA No.: 063460002
4. St Michels Home with FCRA No.: 094420038
5. Patna Diocesan Corporation 031170002
6. Bethel Orphanage 010310015
7. Bettiah Diocean Society 031270030
8. Church of Sacred Hearts of Jesus 261530004
9. St. Francis Xavier Mission 261530010
10. Our Lady Of Rosary Mission 261530013
11. Society of Pilar Punjab Haryana 172380001
12. Society of Sisters of St Charles Mary 094620010
13. Society of Satya Seva Catecaist Sisters 094590020
14. Sisters of Our Lady of Fatima, Bangalore Rural 094420997
15. Save A Family Plan Diocese Of Chikmagalur 094550011
16. Sacred Heart Brothers 094429337
17. The Diocese of Ujjain 063560001
18. Roman Catholic Diocesan Society of Ajmer 125410004
19. The Diocese Of Dibrugarh 020750005
20. Diocese Of Aizawl 020720002 and many more.
It is well established that all Catholic Diocese, Archdioceses, the orphanages, schools, care homes they run, propagate Holy Childhood Programme quite religiously; knowing this, one can surmise the total number of children being indoctrinated to be evango-warriors in India alone! A Rev. Fr. Faustine Lucas Lobo at 10, Ulsoor Road, P. O. Box 4216, 560042 BANGALORE – India is the person in charge of the Pontifical Society of the Holy Childhood aka National Director in India.
List of the National Directions and amounts collected in 2008 and put at the disposal of the Higher Council of the Pontifical Society of the Missionary Childhood for the year 2009.
FUNDS FOR DISTRIBUTION 2009 – 2013:
| | | | | |
| --- | --- | --- | --- | --- |
| SL. NO. | FUNDS COLLECTED IN THE YEAR | FUNDS COLLECTED FOR THE YEAR | IN INDIAN RUPEES | IN US DOLLARS |
| 1. | 2008 | 2009 | 17,690,000.00 | 353,800.00 |
| 2. | 2009 | 2010 | 18,000,000.00 | 382,980.00 |
| 3. | 2010 | 2011 | 18,860,000.00 | 410,000.00 |
| 4. | 2011 | 2012 | 20,746,000.00 | 406,784.00 |
| 5. | 2012 | 2013 | 25,776,306.00 | 495,698.00 |
| 6. | 2013 | 2014 | 26,369,348.00 | 425,312.00 |
| 7. | 2014 | 2015 | 29,822,702.00 | 481,011.00 |
| 8. | 2015 | 2016 | 29,671,097.00 | 478,566.00 |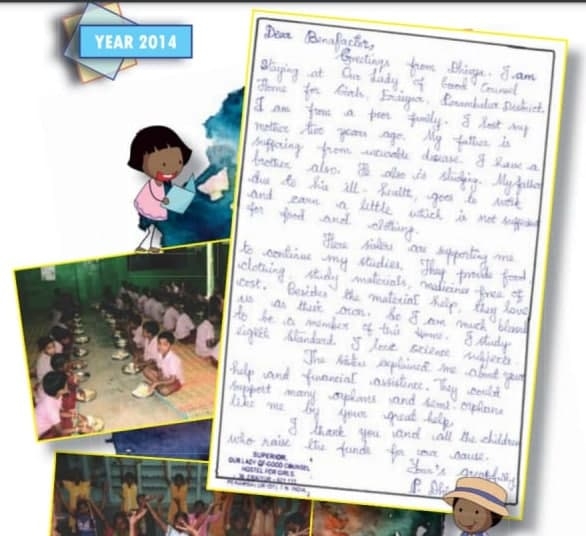 Picture speaks louder than words as it seems in the present case… A girl student sponsored under the Holy Childhood scheme whose verbatim admission as to this programme being run to take care of semi-orphans through child care homes like the one – Our Lady Of Good Counsel, Hostel For Girls in Tamil Nadu, whose Superior has attested that they indeed provide Holy Childhood programmes for orphans and semi-orphaned children.
Legal Consequences:
Sections 295A and 298 of the Indian Penal Code which speak about malicious and deliberate intention to hurt the religious sentiments of others encompass within them even forced or coercive religious conversions making them cognizable offences, that too if minors, women and people belonging to SC/ST category are targeted, the punished is usually harsher. However, equipping children to be evangelists to influence and convert other children brings about a strange predicament as to how such child evangelist offenders are to be legally dealt with. This becomes an offence committed by and against the child evangelist themselves! Even if a portion of the child offenders get exempted by legal liability owing to saving provision of 'doli incapax' under Section 82 of the Indian Penal Code which states, "An act of a child under seven years of age. —Nothing is an offense which is done by a child under seven years of age." Even if a child between 7 to 12 years of age also can take the plea of 'doli incapax' under the reasoning that it did not have the maturity to understand the crime, but if the prosecution can prove and provide evidence for the contrary then the child can be prosecuted. All these entanglements boil down to – What about the rest of the lot falling in the juvenile category, who either knowingly or because of external influences commit the crime of coercive evangelisation? Is the 'missionary zeal' of Catholic Church pushing minors to be 'juvenile offenders' in legal parlance? What such large-scale mobilization of little missionary child population of this country against other religious denominations' children entails in cultural and spiritual genocide context?
Illustrations from PONTIFICIUM OPUS A SANCTA INFANTIA's Annual Reports & Monthly Bulletins – testimony to indoctrination and mobilization of missionary children in India:
1. TOMUS CXLIV VOL. N. 605 of PONTIFICIUM OPUS A SANCTA INFANTIA's ANNALES 2009 – 2013: YEAR 2012 – he MISSIONARY CHILDHOOD DAY In India:
The MISSIONARY CHILDHOOD DAY was celebrated on February 10, 2013 throughout the country with the theme: 'Children sharing the truth with children'. The National Direction prepared the liturgy and the children brought their small offerings to the altar. AN INNOVATION: The review 'Children Helping Children' was updated and made more child-friendly, and stickers with quotes from the Bible were printed. Also, pins were made to be given to the children during the membership ceremony and to wear at every meeting. With regard to the animators, the National Director visited the 5 regions, met with the Diocesan Directors and relaunched the Missionary Childhood with the slogan: 'Catch them young'. A guide for animators was printed entitled 'Keep me burning'. Calendar-postcards and posters were distributed.
2. BULLETIN - PONTIFICIUM OPUS A SANCTA INFANTIA - N. 7 - JANUARY 2021:
India: DIOCESE of Palghat: The Eparchy is flourishing, however, when compared to other Dioceses in Kerala, the Diocese of Palghat is a 'Mission Diocese'… The Holy Childhood Association has 2,669 members and a central office in the Diocesan Pastoral Centre, with qualified staff. The Diocese in divided into 11 foranes and they organize a forane council for conducting training programmes in forane centres, sending later information to each unit of Holy Childhood. A calendar for Holy Childhood activities is planned, along with an inaugural day with the Bishop. Each child member of Holy Childhood is given prayer books and badges. On Sundays, there are catechism classes and once a month, literary activities in the parishes and there will be training for Bible making, writing, storytelling, music, drawing etc. that will enable children to develop their talent to use it to proclaim Jesus. The Diocese organizes every year retreats for the spiritual formation of children. For 2021 the Diocese has developed a program for the spiritual uplift of the children and to remind them of their missionary vocation.
3. BULLETIN - PONTIFICIUM OPUS A SANCTA INFANTIA - N. 7 - JANUARY 2021:
Good Samaritans: The Diocese gathers the Holy Childhood members every third Sunday of the month in all units of the Diocese. This day is meant for study, prayer, preparation and activity. On such occasions, the unit members may collect their contribution of the month to help the needful children irrespective of the caste and creed, in orphanages, hospitals, villages, etc. The program includes visits to orphanages, contribution to help them, distribution of cloths, books, edibles etc. collected by the members and the performance of cultural programs to share the love of Jesus.
Need For An National Anti-Conversion Law:
The Honourable Supreme Court in Arun Ghosh vs. State of West Bengal, 1950 has held that an attempt to raise communal passions through forcible conversions would be a breach of public order and affect the community at large. Thus, it held that the States were empowered under Entry 1 of List II of the Seventh Schedule of the Constitution to enact local Freedom of Religion laws to exercise its civil powers and restore public order. If minors are to be employed to bring about 'evangelization' in India, don't the minors, both Christian as well as non-Christian ones need a redressal mechanism to safeguard themselves from this menace? The question looms larger than just State-wise anti-conversion law implementation which addresses this issue only at an inadequate level.
It seems that the Apostolic Nunciature, New Delhi (Embassy of the Holy See, Vatican) which is the sole Holy See representation in India oversees and controls the distribution of Vatican's funds to Indian NGOs for Missionary Childhood/Holy Childhood projects being run in India, which deftly violates Articles 25(1) and 28(3) of the Indian Constitution, provisions of the Juvenile Justice (Care and Protection of Children) Act as well as other provisions under the Indian Penal Code.