On 23rd August 2020, a little-known School located in Dumka District of Jharkhand, the Genesis School, uploads a series of objectionable videos where it objectified Hindu Gods and Goddesses with demons and portrayed the Hindu way of life as regressive. To justify their claims, several videos of Indian Celebrities like Johhny lever, Prem Chopra and Lara Dutta were uploaded, where they shared their testimonies directed against Hindus. The videos are full of anti- Hindu propaganda, and in one such video, comedian cum evangelist Jhonny lever can be heard exhorting the greatness of Christian sermons which can even cure diseases otherwise considered incurable by modern medicines. Because this is a School's official Facebook page shamelessly using social media as a tool to spread hatred against Hinduism, one can easily visualize the level of propaganda being fed to the pupils studying in this school, and the level of religious conversions that are being effectuated in the name of education. Now let's fast forward to Assam on 18th February 2022, where amidst Adivasi gospel songs, a couple of pastors were seen in a remote Adivasi village of Gossaigaon, Kokrajhar, chanting baptismal sermons as they baptised the entire Adivasi village into Christianity by the small pond located on the outskirts of the village. Can we guess what is common between these two events? The Mizo Presbyterian Church Synod or the Mizo Synod, or the Mizo Church, as more commonly known.
For implementing their conversion agenda across India, the Mizo Church has raised a host of specialised branches, namely, the Jharkhand Mission field, Assam Mission field, Home Mission South for Chakma Buddhists in Mizoram, Arunachal East Mission field, Kolkata Mission Field, Patna Mission Field, and the Delhi Mission field to name a few. For keeping the article within a justifiable length for readers, we will focus only on the Assam Mission Field.
It is not too long the memory lane, when in 2018 organisations at the behest of the Mizo Church raised objections to the appointment of Kummanam Rajasekharan as Governor of Mizoram, citing that Mizoram is a Christian state and the appointment of a Hindu as the constitutional head of Mizoram was unacceptable. Nonetheless, this is the same Mizo Church that considers it as a heavenly right while riding the mule of secularism to justify the conversion of Hindus across India in fanaticism that can be equated to a neo-white men's burden, as the eagerness of the Mizo Church that is presently witnessed in Assam can be equated only to those of their colonial masters.
The Mizo Church established its specialised branch, the Assam Mission field in the year 2000 after its 76 Synod conference where a proposal was undertaken to systematically approach and achieve its conversion goals in Assam. While working on this article, we came across dozens of videos of Mizo pastors speaking fluent Assamese, serving Baptismal sermons and evangelising the Assamese masses, all in chaste Assamese. Videos of Mizo pastors like Zobiaktlunga speaking fluent Assamese and reading out from Assamese script gave rise to immense curiosity among us as to know how deep this cabal is in reality and how far have they penetrated the society of Assam. The Mizo Church has been successful in penning down a blueprint for serving their interests in Assam. For the ease of doing their business, the Mizo Church has divided Assam into four administrative divisions called pastorates, namely, the Dibrugarh pastorate for upper Assam, the Tezpur pastorate for middle Assam and the northern bank, the Guwahati pastorate for lower Assam, and lastly the Silchar pastorate for Barak valley. All of these pastorates are under the administrative supervision of high-ranking Mizo officials called field secretaries and undersecretaries who in turn maintain a team of local converts from target communities who work as their overground workers dealing directly with the target community. These local converts are always ranked lower in the hierarchy and have also often faced apartheid at the hands of high-ranking Mizo officials. Under the assurance of anonymity, one of their local Nepali community agent for Dibrugarh Pastorate had revealed several instances, when Mizo high-ranking officials had blatantly displayed their superiority complex, especially when the issue of marriages between Mizo and non-Mizo officials arose. The Mizo officials after completing their theological education in Aizawl theological college, undertake mandatory training at the Missionary Training college, Aizawl. At the Missionary training college, evangelists deputed for Assam Mission Field are taught Assamese along with a brief introduction to the socio-political demography of Assam. Another major skill set imparted to the Mizo missionaries is that of vulnerability mapping, wherein based on certain parameters, Mizo proselytisers are taught to identify Communities, Ethnic groups, Localities and Individuals who are susceptible to conversions, such as villages/ families devasted by natural disasters like floods, economic or medical catastrophes, individuals and families suffering from terminal or long term illnesses, underdeveloped/ remote localities, and Single parent orphans or orphans etc. Supported by a strong cash inflow from foreign donors such as the Presbyterian Church, USA, Princeton Theological Seminary, USA, Presbyterian Church of Wales, UK, World Communion of Reformed Church, UK, Christian Reform World Mission USA, Council of world missions, UK, and the Church Mission Society, UK, the Mizo Church and its specialised branch, the Assam Mission field have access to unlimited financial resources. With access to a never-ending supply of finances and manpower, along with a methodical approach to proselytization, the Mizo Church has been particularly successful. After translation and transcription by our team of a few videos on conferences conducted in Mizoram about Assam Mission Field's work, Mizo church officials were heard extolling their success, particularly among the Adivasi community of Assam followed by the Assamese community under Dibrugarh Pastorate.
Rev. H. Lalhmingmawia, Field Secretary of Assam Mission field, Tezpur pastorate has reportedly claimed that around 74% of the Santhali community (Tea Tribe/Adivasi) in Biswanath Chariali, Sonitpur and in and around Gossaigaon have been converted to Christianity and also that many new converts are being trained and deputed for catalysing conversions among the Santhali tribes in Jharkhand through its Jharkhand Field Mission. The level of success achieved by the specialised branch of Mizo Church, the Assam Mission Field can be estimated from the fact that during an opening ceremony of a Church in a remote village called Nagadera in Teok, Jorhat, under the Dibrugarh pastorate, Mizo Church officials confidently declared in impeccable Assamese that within a short span of time, the entire village of Nagadera and its surrounding villages will be converted. It is also important to mention here that, the Mizo church has been particularly successful in creating a long list of non-movable assets across Assam that serve as Mission stations and Field stations for carrying out their activities. The Nepali community agent and our insider at Assam Mission Field, have revealed many shocking details that need to be revealed for the welfare of Assam and its society. As reported by our trusted informant, the Assam Mission Field (AMF) predictably estimates the current conversion rate in Assam to be around 34% (thirty-four per cent) i;e for every 100 people AMF tries to convert around 34 people get converted, AMF predicts the current Christian population of Assam to be at around 12% (twelve per cent) and projects it to reach 24% (twenty-two per cent) by 2041. The Mizo Church also believes that by 2051, there will be a major demographic change in Manipur, Assam and Tripura, and the Hindu population will decline by a visible percentage. Some of the communitywise agents of Assam Mission Field are as follows;
1) Assamese Community: Ghana Handique and Dk Baruah
2) Santhali Community: Lukiram Tudu and Sagenen Murmu
3) Nepali Community: John Sharma
4) Bengali Community: Shilajit Chakraborty
5) Hindi Speaking: NL Mishra
6) Bodo Community: Although AMF claims to have been particularly successful in Bodoland and Karbi Anglong areas, we were not successful in getting many details on their activities among the Bodo and Karbi tribes of Assam.
Another Shocking fact that we found regarding the functioning of AMF was the active involvement of the Mizoram Government. For instance, we found references where members of the Mizoram Armed police were staying inside the Field Headquarters (HQ) of Assam Mission Field which resembled similarities of the colonial times when the East India Company and later the British government provided active logistical support to the Missionaries, especially in the Northeast.
In the Evangelical paradigm, Assam is seen as the last bastion of Hindus where proselytising has not achieved much headway till the late 20th century, and apart from the Mizo Church, there are hundreds of evangelical missions mushrooming every day in Assam that are expediently converting hundreds of people all across the state every day. The Assamese community was once considered the most resilient community to Christianity in the entire NE, as the works of Vashnavite monks like Shrimanta Shankardeva and Shri Shri Madhavdeva were part of the daily life of the common Assamese masses. However, it turns out that, the Assamese community today is one of the most susceptible to conversions after the Santhali community and the spiritual centres of the Assamese Community, the Sattra's or the Vashnavite monasteries are conveniently aloof from the affairs of spiritual propagation midst the Masses. Therefore, at this critical juncture, the faith of Assam dangles by a thin thread considering that the BJP-led government comes out with a strong Anti-Conversion bill followed by a strong spiritual uprising across Assam.
Extra Shots:
Names of a few high-ranking Mizo officers of AMF who are currently deputed across the four pastorates of Assam as Field secretaries and Undersecretaries
Guwahati Pastorate:
Tea Chhangte Zuala
Hlutei Hlondo Vl (James)
Lalrinawma Pachuau
Hmuna Zote
Rev. H. Lalhmingmawia (HQ)
Ramsangzela Masanga (HQ)
David Hmar Țhiek (HQ & Principal Genesis School Jharkhand)
Jerry Hmar(HQ)
R. Vanlalngena (HQ)
Tezpur Pastorate:
Ronghinglova Khawlhring
Marini Chhakchhuak
Gina Paite (Piangsian Gin)
Merina Laizo
Valpuia Da Kop
Dibrugarh Pastorate:
Tenem Tenem
Hmingthan Sanga
Lz-i Pachuau
Marema Hrahsel Tea
Ardy Rodingliana Renthlei
Duh Liana
Siliguri Pastorate:
Matleii Tochhong
Rev. Zobiaktlunga
Vanlalrohawnga Roteavanchhawng, an officer of Mizoram Armed Police deployed in Mizo Church Guwahati, Headquarters of Assam Misson Field.
Official Youtube Channel: Media ministry AMF
Official Facebook Page: @AssamMissionField
Second Youtube Channel: Gemini Exchange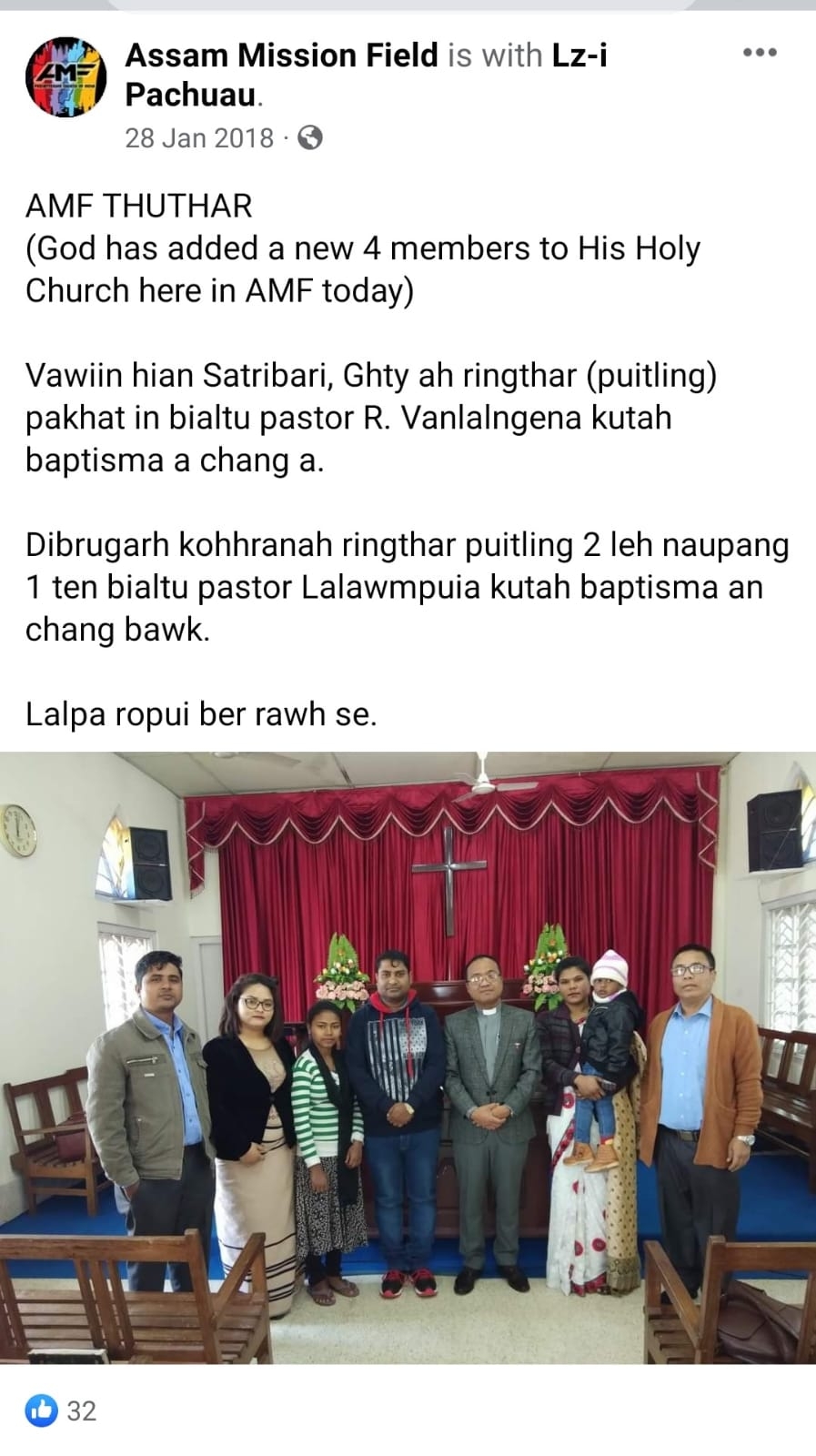 (Translation from Mizo) Today in Satribari, Guwahati at Assam Mission Field, one elderly have converted( taken Baptisma or Baptism) to Christianity under pastor R Vanlalngena's hand and two adults and one child have taken Baptism at Dibrugarh Christian Association under Pastor lalwampuia.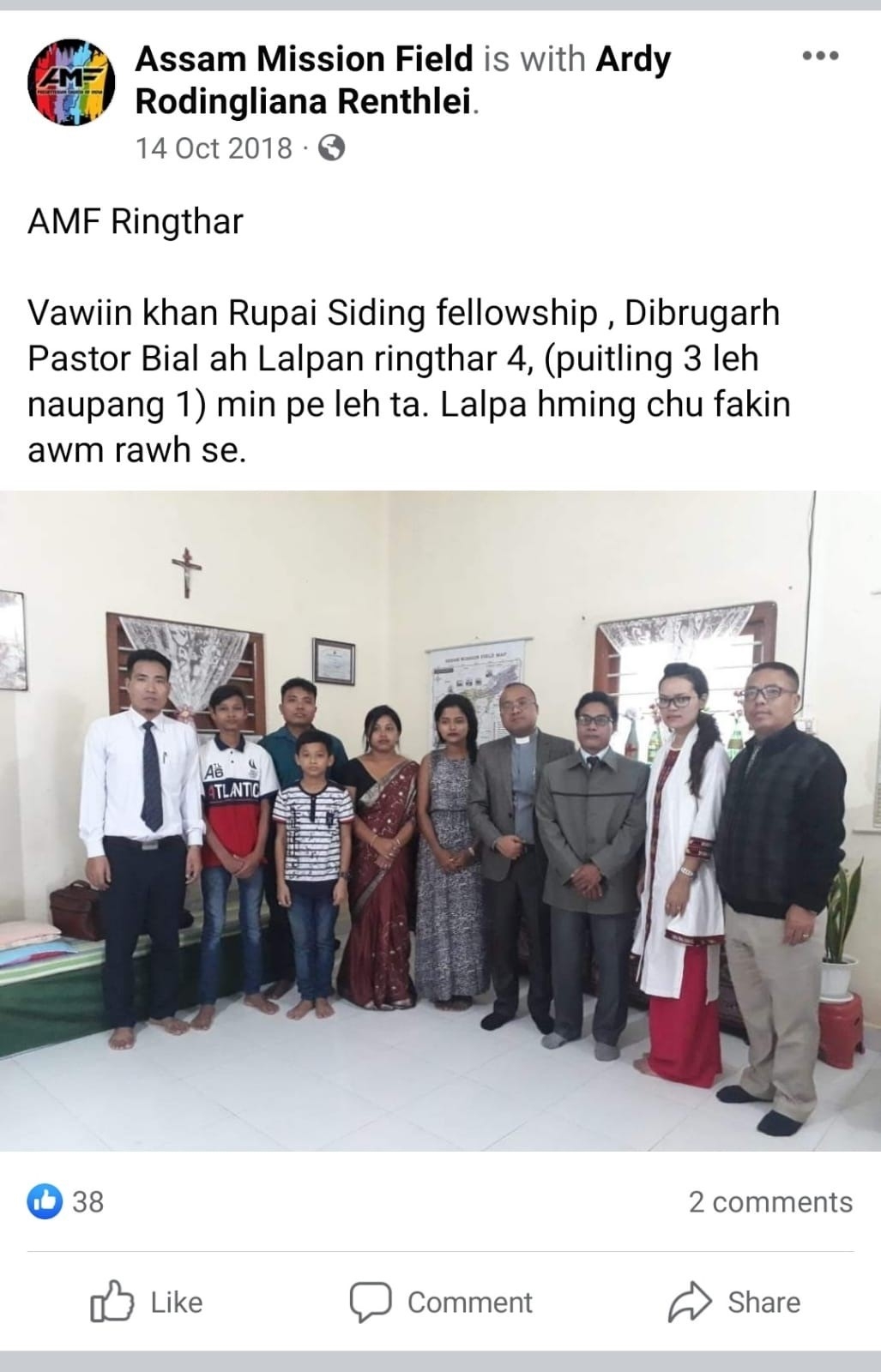 (Translation from Mizo)Today in Rupai Siding Fellowship, Under the Dibrugarh Pastor area, four people including three adults and one Minor have accepted Christianity.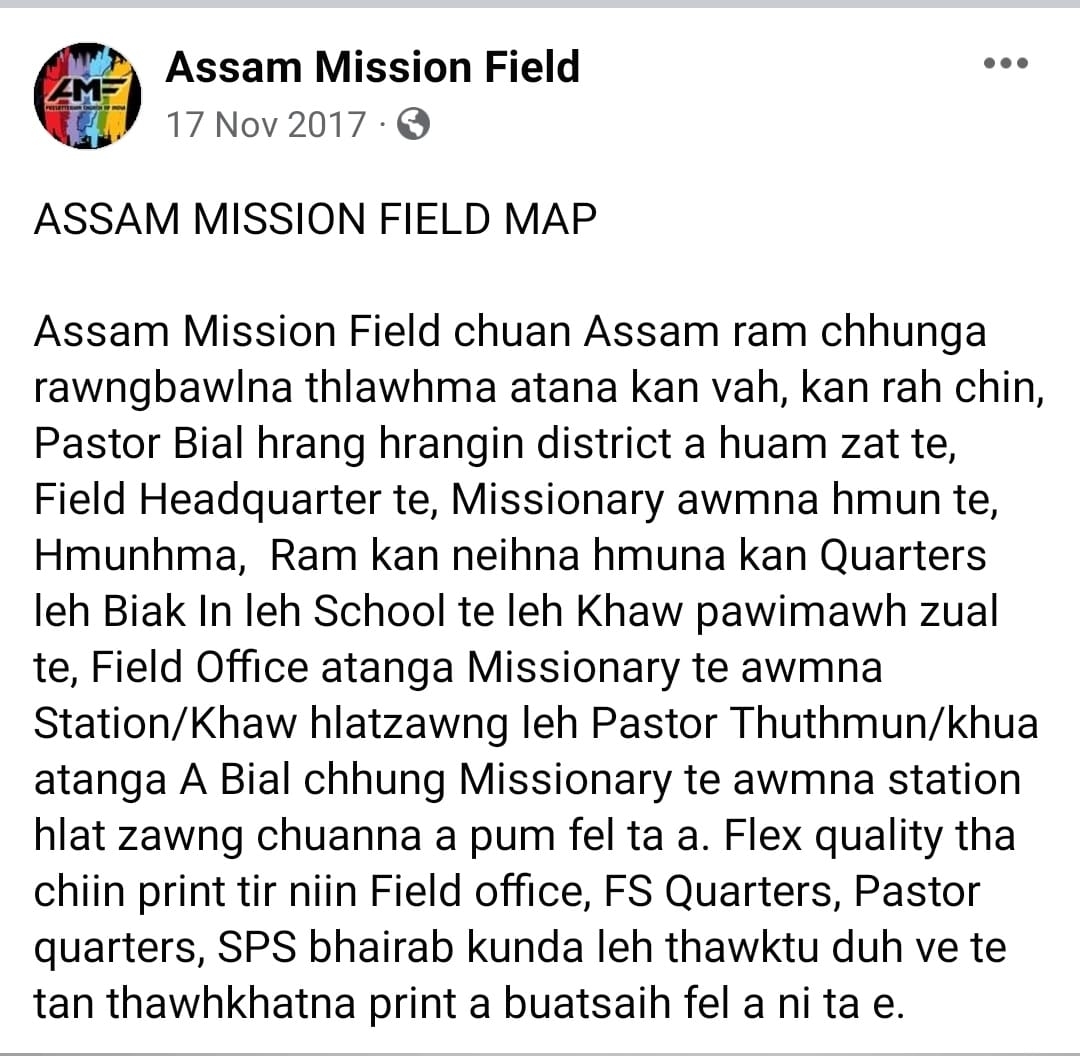 (Translation from Mizo)Assam mission field current status our Labour for conversions are as follows; We have successfully marked the area & jurisdiction of each pastor and how much area they would cover; Field Headquarters, posting of missionaries, the land we purchase and the quarter for residential buildings to be constructed, also church and schools, field offices, mission stations; the distance between villages, distance from the village to mission stations and Villages under Christian domination are finally prepared. We also printed best quality flex- for our office; Field Staff ( FS) quarters, pastor Quarters, Also our for APS Bhairab Kunda and other interested workers we have successfully printed such flex.
Important Video Links:
1) Video of a conversion event conducted by Assam Mission Field (Mizo Church) for Adivasi Community in Gossaigaon, Kokrajhar, Assam, dated 18/02/2022.
Url Link: https://www.youtube.com/watch?v=c_cA1F5MD00&t=70s
2) Video of Mizo Church officials opening a new Church for new converts in Nagadera, Teok, in Jorhat district Assam, under the Dibrugarh Pastorate. The Mizo officials can be heard expressing their motive of completely converting the neighbourhood in the near future. Mizo Church Officials can be heard speaking fluent Assamese.
Url Link: https://www.youtube.com/watch?v=9i1sqBzfVLk&t=1179s
3)Propaganda video of Shilajit Chakrabarty, Bengali Community Agent of Assam Mission Field delivering a lecture on how he suffered earlier and how his life changed positively after converting to Christianity.
Url Link: https://www.youtube.com/watch?v=F9QWJqDZAfc
4) Propaganda video of DK Baruah, Assamese Community Agent of Assam Mission Field delivering testimony on how he found peace after leaving Hinduism.
Url Link: https://www.youtube.com/watch?v=vkZAFfwaEM0
5) Propaganda video of Ghana Handique, Assamese Community Agent of Assam Mission Field delivering testimony on how he found peace after leaving Hinduism in 2006 as it was unscientific.
Url Link: https://www.youtube.com/watch?v=WidFSqdSkVU