Kashmir Jihad which Punjabi Pakistanis aren't going to fight!
(ICRR Af-Pak)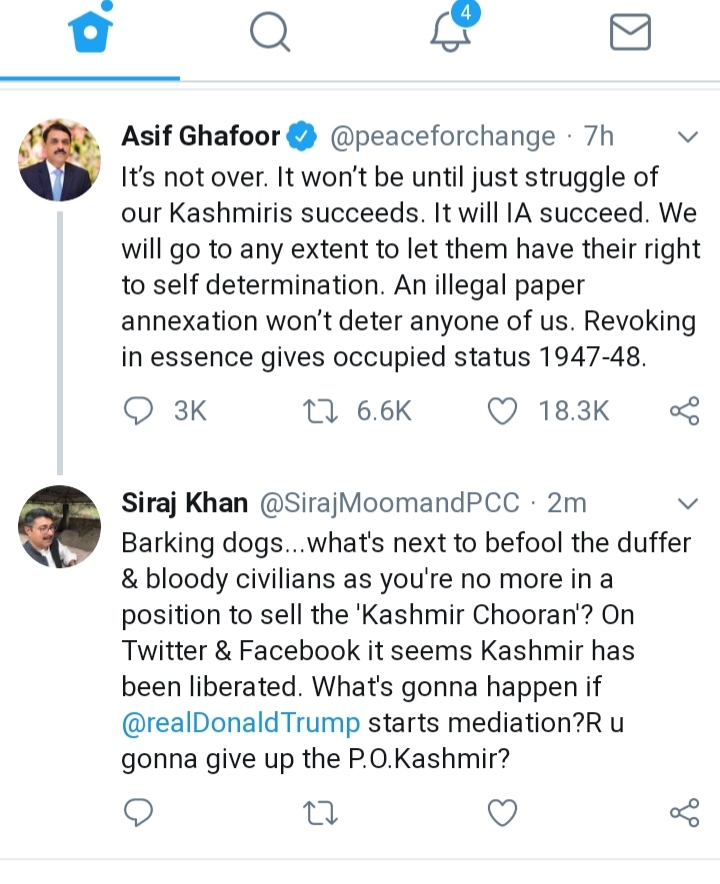 Two strong but diagonally opposite forces to each other are active in today's Pakistan. Anger, discontent simmering within non- Punjabi population of Pakistan (
Pashtuns, Baloch, Sindhis)
against Pakistan Army and its call for Jihad against India over Kashmir. Another force is jingoistic Punjabis which are pressing Pakistan army to take strong and immediate military action against India for scrapping article 370 and fully integrating Kashmir.
It's biggest test for Pakistan Army since 1971. The balloon of Kashmir hysteria which Trump's Kashmir mediation created during Imran's US trip, punctured by Indian blitzkrieg on Kashmir, scrapping article 370 and 35A. It send shock-waves down the nerves of GHQ generals. Furious Pakistanis started appealing Pakistan Army to take immediate revenge of Indian move in Kashmir, which ended separate status to it and fully merged Jammu and Kashmir with bifurcation. Pakistani social media is loosing patience and even started abusing their army, which is holy cow for every Pakistani. After Corps Commanders Conference, COAS Gen Bajwa declared Pakistan Army is fully prepared and will go to any extent to teach India lesson. Many ridiculed him for hollow threat!
But important questions are, Will it declare conventional war against India? If Pakistan declares war, will Punjabi generals risk their business fortunes and lives for it? We will think upon it here.
Pakistan as seen by common Indians...
For common Indians, Pakistan is radical Sunni Muslim country and its all 20 crore population is cohesive society, ready to sacrifice their lives for Kashmir and to do anything against India. But this is not the case. Pakistan is incongruent society with sharp linguistic and ethnic schisms. Distribution of wealth is also uneven where Punjab is extremely affluent compared to Sindh. Balochistan is only used to loot crude oil, gas, gold and other mining resources but left impoverished. Pakhtun majority Waziristan and FATA are being used by Pakistan Army and ISI as launchpad for Afghanistan Jihad and for training Sunni Jihadis.
Obviously Punjabis are real and only masters of Pakistan. Since 1947, Punjabis enjoyed tremendous power and political influence. When Bengali won majority in the parliament of unified Pakistan, Pujabis rejected electoral verdict and imposed brutal war against East Pakistan, which Bengalis won and thus Bangladesh created.
Not only that, popular Sindhi politician Zulfikar Ali Bhutto; when reached to the popularity, Punjabi Gen Zia Ul Haq hanged him with impunity! When his daughter became main challenger to Punjabi Army establishment, they bumped her off in a suicide bombing with the help of their Taliban Sunni Muslim proxies.
They used Pashtun tribes in 1948's first Kashmir war, again recruited them in Afghan war against Soviet Union funded by Americans and bombed them in 2001 and 2014 again to earn billions of dollars from Americans under the pretext of war against terror.
In 1971 they tried Punjabi's military valor while trying to suppress Bengali revolution against East Pakistan; but Pakistan Army remained so busy in raping Bengali women that they literally forgot to fight and lagged behind Mukti Bahini. Ultimately they lost East Pakistan and recorded themselves in the pages of history by staging biggest surrendered army of modern world with 93,000 troops.
Dilemma of Punjabi Military officer- Business or War
Pakistani army's Punjabi officers have tremendous business talent. They have converted their military in to business empire. According to article published in Asia Times, current market value of Pakistan Army's business enterprises exceeds USD $100 billion. Its commercial wings comes under Defense Housing Authorities, the Shaheen Foundation, Fauji (Army) Foundation, the Bahria Foundation and the Army Welfare Trust which runs businesses spread across verticals like insurance and banking, food, retail superstores,cement, real estate, construction, housing, private security services etc.
Being such a business oriented force, they always left real job of army i.e. fighting to illiterate jihadis recruited from rural belt of Pakistan. Also they encouraged devout Muslim Pashtuns to take on Soviet and then India for the sake of Islam. But these tricks are no more workable for Pakistan army.
What Pashtuns think about Pakistan's Kashmir obsession?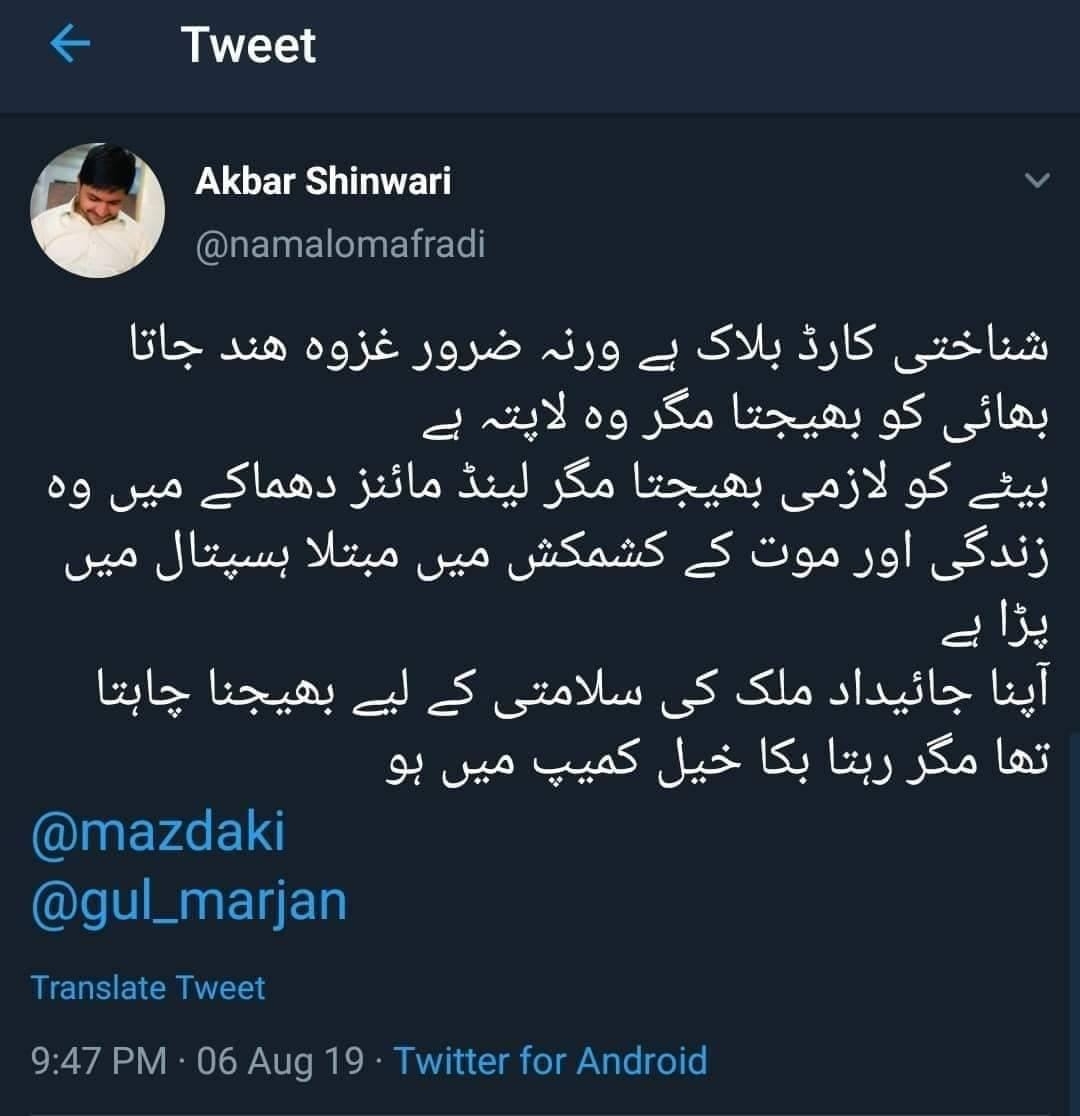 An emotional Pashtun narrated sad story of oppression of Pashtuns in Pakistan on twitter as soon as War Cry started echoing in Pakistan against India. The man wrote,
" I would have surely gone to Hindustan to fight a holy war........ But my ID card is blocked and confiscated by army for being a Pashtun....... I would have definitely send my brother for Jihad against India, but he is forcefully disappeared by Pakistan army for being a Pashtun...... For sure I must have send my son for Jihad against India, but he is badly injured in a landmine blast laid by Pakistan Army in Waziristan and now he is battling for life in a hospital....... I wanted to sell my property for defending my country; but I don't have it anymore because I am living in Internally Displaced People- IDP camp of Baka Khel....
This is representational story of thousands of Pashtuns and Baloch being oppressed by Pakistan Army since 1947!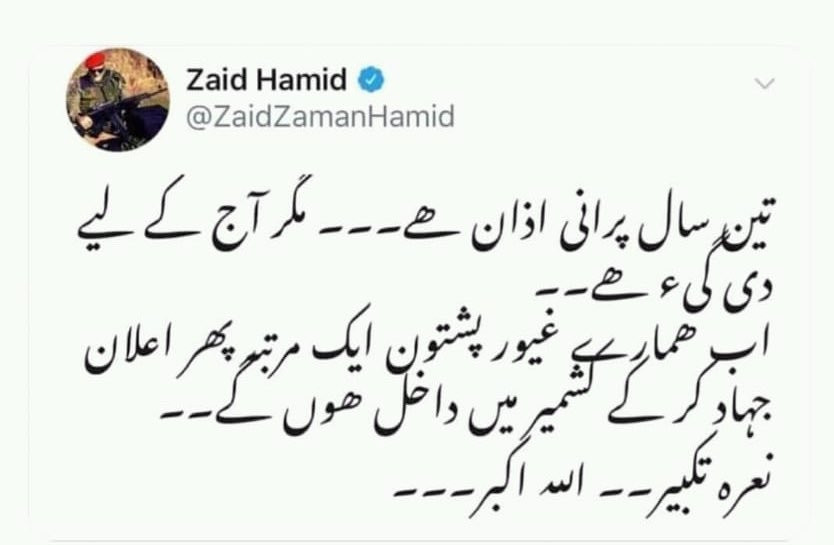 Most vicious rabid Pakistani mercenary Zaid Hamid, who is also popular for anti Hindu, anti India rant on Pakistani television wrote on Twitter, "Once again our fierce fighter (Ghayoor) Pashtuns would declare Jihad against India and storm Kashmir!!" His tweet drew sharp response from Pashtuns, which quickly rebuked him and asked in return; aren't their any Punjabi fierce fighters remained alive in Pakistan? Why we Pashtun should fight your Kashmir war? Who are you to use Pashtuns as canon fodder?
This is the mentality of Pakistan's largest ethnic and linguistic group which comprises big chunk of Pakistani armed forces. Anti Pak Establishment sentiments are running high in Pakistan. And Kashmir issue has remained limited to Punjabi Pakistan only.
Withering Nationalism and ebbing concept of Pakistan....
With thousands of enforced disappeared Baloch, Pashtuns, Sindhis and Mohajirs. No one outside of Punjabi Pakistan is anymore attached to the emotional concept of Pakistan as Sunni Islamic Nation. With 2 Pashtun elected Members of Parliament in jail without any crime; Pakistan can't take Pakhtuns for granted in Kashmir Jihad. Baloch were never emotionally attached to Pakistan's concept as they were forcefully annexed to Pakistan by Jinnah's army on March 27, 1948.
Sindhis have seen hanging of Sindhi PM Zulfikar Ali Bhutto in a broad day light by Punjabi army dictator and brutal killing of another Sindhi icon Benzir Bhutto by Pakistan army proxies. Prominent Pashtun or Baloch leaders never occupied central stage in Pakistani polity, as Punjabis never allowed them to grow.
The reality of Pashtun alienation and their superficial attachment to Pakistan's nationhood was correctly described by son of Sarhad Gandhi Khan Abdul Ghafar Khan, Mr. Khan Abdul Wali Khan, he told Pakistani journalist in 1975 while replying his question whether he is Pakistani or Pashtun, "I am a Pashtun for 3000 years, a Muslim for 1300 years and a Pakistani for 25 years"
The scenario is clear and painful for common Pakistani, who worshiped Pakistan Army even more than Allah; as their army is no more garnering support for Jihad against India. Its Punjabi Generals are no more interested in destroying their business interests for Kashmir. And with empty treasury, their army is not in a position to wage a war against India. In case they emotionaly makes reckless another military disastrous and more disastrous trifurcation even more humiliating than 1971 may occur.
Will Pakistani Awam understand this? Will they stop pushing their army to the brink for Kashmir ego? Even God doesn't knows this!
----- Vinay Joshi